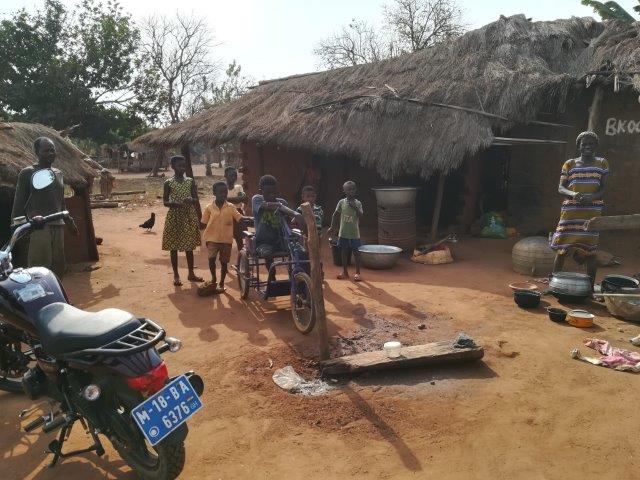 The PCC Outreach programme started around 2015 and aims to offer care and support to children with a disability (CWD) and their parents in a wide circle arond Nkoranza, mainly in the Districts Nkoranza South and North, al well as Techiman South and North.
The idea behind this programme is the knowledge that in PCC we are caring continuously for about 100 abandoned children with an intellectual or multiple disablity, but we are quite aware that there are many, many more CWD elsewhere in Ghana who often are living under very bad circumstances in the villages, most of the time without receiving any form of good care, necessary support or good guidance .
And we also know for sure  that PCC can never accept thousands of CWD from all over Ghana in our Community, that's why we felt that good care outside PCC is also essential, it might even prevent parents from abandoning their CWD.
In the numerous villages of the 4 Districts menstioned above there are at least a few hundred CWD living with their parents and in almost all situations the care for these children leaves a lot to be desired.
That's why we have decided to send our PCC Outreach team to all villages in the Districts to look for these children and to work together with parents and village elders on improvement of the living circumstances of the CWD.
The PCC Outreach programme includes a.o.:
to give information to the general public and create awareness about disablilties, also with village elders and parents of CWD, trying to take away the many prejudices about disabilties
medication against epilepsy
support via livelihood projects to help CWD to provide for their own livelihood
to establish and run Daycare Centes for CWD in the Districts
to provide CWD with important assisting devices (like wheelchairs)
to give advices on good physiotherapy for children tha tmigh benefit from it
to bring parents of CWD together in Parents Support Groups, to be stronger together in caring for their children
etc. etc.
Progress Reports
You will find more information about the Daycare Centers of PCC Outreach via these links:
More and detailled information about the Outreach Programme can be found in the
Annual Reports of Outreach
:
How to support Outreach:
You can support the PCC Outreach programme with a donation or via monthly contributions, preferably by writing "support for the PCC Outreach Programme". Please view our bankdetails here.