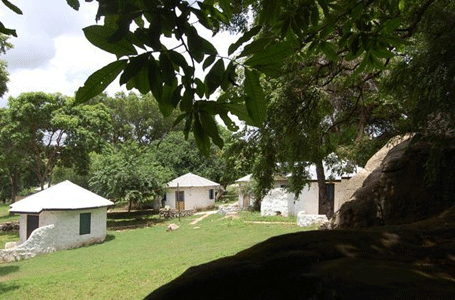 Would you like to see with your own eyes how we are caring for all residents in Hand in Hand or would you like to experience the unique atmosphere of the Community yourself? That can easily be done by hiring one of our nice guesthouses for one or more days (or even for some weeks!). All guests are cordially invited to interact with all our children and to participate in all activities in the Community.
Below you will find all information about the guesthouses, the actual prices (changing once in a while due to the high inflation in Ghana) and the best way of making a reservation.
Reservations
If you would like to come and stay, we recommend you inquire about the availability. Especially during weekends and during the months of July, August and December we are often heavily booked. If you want to make a reservation well in advance, please contact us.
For a visit on a short notice you best call straight to our Hostess or, (if not present), to Mr. Baffo.
But even in the case of a visit without reserving in advance, we can accommodate you most of the time nicely. In case there would be too many visitors at one time, we have even made special arrangements with a hotel in town + a taxi connection to PCC, for a temporary solution.
Pricelist
Prices per October 2022, in Ghana Cedi's
House 1: Guesthouse, recently renovated, with two large bedrooms, each room with its own inside shower and toilet. Adjacent is a spacious room, with a fridge, water cooker and a dining table. Room A has two single beds plus writing table and chair, room B has one large two person bed plus writing table and chair. With a private little lawn, in the front is a beautiful rock formation with a gorgeous view and a summer hut to rest and read. Price: GHC 260 per night.
Greenhouse 2: A guesthouse, hidden between the green leaves, situated close to the main rock and the central playground of PCC. This house has two not completely identical rooms, but each with a single bed, plus a combined place for shower and toilet. Price: GHC 110 per night for 2A and GHC 100 for 2B.
3 and 4: Two houses under one roof, each with a separate square room. House nr. 3 has a 1,5 person bed, while house nr. 4 has a single bed.  Each house has a nicely renovated sheltered bathing place with a toilet. Prices: House 3 is  GHC 130 and House 4 is GHC 120 per night.
VIP 5: A 3 person guesthouse, with one big spacious, sleeping and living area. There is a lounge suit, writing table and two large beds with two mattresses and one single bed. VIP 5 also has a private inner courtyard, an attached kitchen with fridge and water heater. Open air shower and toilet facilities. Gorgeous little house! Price: GHC 230 per night.
6,7, 8,9 en 10 : Five recently renovated large and spacious round huts, each with a large comfortable two persons bed with two mattresses, a dressing table and chair. Each house has its own private and sheltered toilet plus a shower. Price per house per night: GHC 180 per house per night.
House 11 and 12: Two new, luxury and modern guesthouses under one roof, with a nice terrace. House 11 has two single beds and house 12 has two king-size beds. Each house has an inside shower plus toilet, plus two comfortable chairs, a big cupboard and writing table. Price house 11: GHC 210 and House 12 is GHC 220 per night.