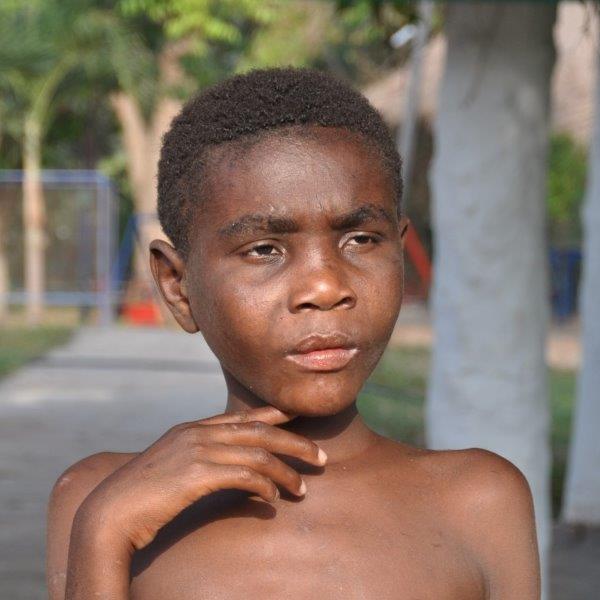 The grief in PCC has become even bigger
as on 17
th
November also Kojo Joseph suddenly died.
Just 2 weeks ago we lost both Bernice and Wumpini and now, so soon after, Kojo Joseph passed away. Also in his case it happened unexpectedly, he collapsed  during breakfast and suddenly he was no more.
The story of Kojo Joseph started in 2006 when he was found in a plastic bag by some farmers around Kumasi. Obviously he was left there to die.
By then he was very lean, had wounds all over his body and was afraid for everyone, a "wild boy".
In 2008 he came to PCC, but also in our Community it wasn't easy to get in touch with him, he completely lived in his own world and was always withdrawn. He never became a member of the group, but on and off he became suddenly aggressive.
His greatest hobby was eating, it seemed he was never satisfied as if he wanted to make up for what he was didn't get in his early life…..
He also loved the swing, sometimes he would take your hand and walk you to the swing, making clear that you had to push him after him sitting on that swing.
In the same way he loved the donkey car. Driving around on the compound made him quiet and therefore caregivers did so for years every morning in his one-to-one programme, group activities were no pleasure for Kojo.
Initially it was not easy to find a good caregiver for him, but from 2010 on Juliana took care of this difficult task in an admirable way. Well done, Juliana!
It was difficult, if not impossible to come into contact with Kojo and if he was making some contact with you it was only because he needed you.
He would not look at someone's face, but sometimes a smile could make his whole face shining. We hope that he can now shine forever as Kojo was also a child of God. We believe that he is now enjoying everlasting peace with his Lord and Creator.
So much sadness in such a short period has hit our Community hard and while writing this (19th November) another resident, Amma Lekma, has become very ill.
She is one of our residents with serious cerebral palsy and is now also suffering from a serious condition of her limbs. Her total condition has now gone down.
We therefore ask you for your prayers for Amma Lekma and for our Community as a whole.
May the Lord bless us and keep us, as the grief in PCC is now simply too much.