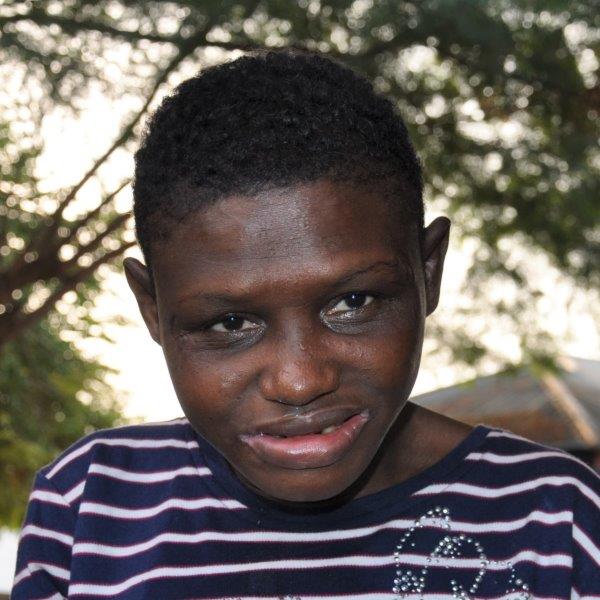 For over 25 years Alice was one of the residents of PCC – Hand in Hand
but last July there came an end to her earthly life.
Alice was about 30 years old. She came from the psychiatric hospital in Accra to PCC at the age of 5. It must have been a pleasant and beneficial change for her at that time: a young child should not be in a psychiatric clinic even though she has physical or multiple disabilities.
Alice had been diagnosed with Rett's syndrome when she came to us. This is a neurological disorder which affects especially young women, and is characterized by an increasing loss of functions, like speech, and a continuing deterioration of motor skills.
At first, she was able to walk around our compound (with a little help), although she would be walking on the tips of her toes most of the time. However, over the years her ability to walk became worse. On top of that, she broke her upper leg, because of an accident, and she ended up in a wheelchair.
She started hunching forward, and this became even worse in the course of time. She also began rubbing her hands in a stereotypical way. Sometimes Alice would cry heartbreakingly, especially when she was hungry. When food arrived, she was alright again, and she would devour the meal.
She did not speak, the stiffness in her joints became worse and worse, and her back grew even more hunched. Her world was getting smaller and smaller, which was reflected in Alice's face. Because if you looked at her, you would often see a very sad expression on her face. Quite understandable because life was not particularly smiling on her, despite the caregivers' efforts, who tried to support and care for her in the best way they could.
Alice was very sensitive to the soft touches and massages given by her caregivers, and she enjoyed these caresses in a very quiet manner.
Few would like to have changed places with Alice even for one day. Because of her illness she had a difficult and probably also a lonely life and her health was deteriorating slowly but certainly.
During the past year she lost even more weight and despite the good wound care, the various wounds and bedsores she had could hardly be cured.
Rather unexpectedly Alice's life on earth came to an end when she – just after breakfast – drew her last breath. That same day she was buried in the cemetery in Nkoranza.
We are proud that we have been able to care for Alice for 25 years and we trust that she may rest in eternal and perfect peace in the arms of her Lord and Creator. Dear Alice, rest in peace.