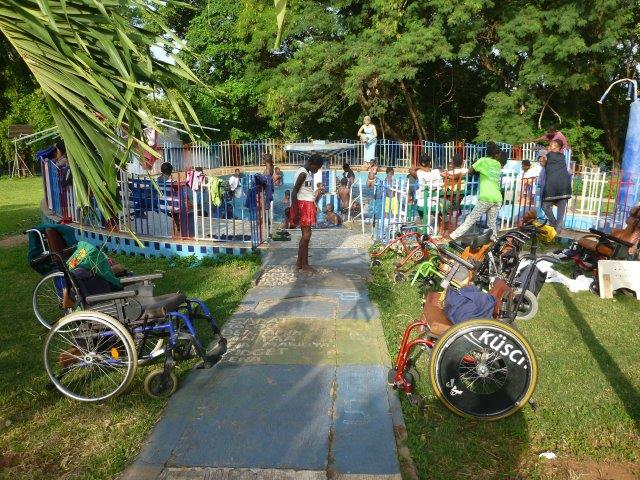 This time another column written by a guest, this time from Jeannette Klein.
She is the new treasurer of the Dutch Foundation Hand in Hand and also the coordinator for sponsoring.
---
Hello, my name is Jeannette Klein and in May I was in PCC for almost 3 weeks on behalf of the Board of the Dutch Hand in Hand Foundation and as a member of "the network" (more about this in a later Albert's Corner). I have met the children, the caregivers and the management of PCC and I would like to inform you about daily life in PCC.
I would like to point out that the programme and the tasks of the mostly elderly residents are adjusted to their abilities and needs as much as possible, so there are also residents for whom the day looks different from the programme described below.
The morning starts early in PCC. From half past five everybody wakes up. With a bit of luck it is still cool at that time. At seven o'clock the programme starts. Walking on the PCC grounds for most children, physiotherapy for others. Depending on the disability of the children this physiotherapy may consist of massage of the joints, exercises to learn how to stand or walk, light fitness, or games to practise coordination.
At eight o'clock it is time for breakfast. The children who go to the regular primary school in the village eat earlier, because they have to leave early. All meals are prepared by a permanent kitchen team, which often starts at five in the morning. It is no mean task to prepare meals for about 130 people (residents + caregivers).
Breakfast is usually a form of porridge, for example rice porridge, corn porridge, or soya porridge (with a kind of peanut butter), but sometimes also bread with a fried egg, or small fried balls made of bean flour. Everyone has a fixed place at a table. Children who can eat by themselves are doing so and those who need help are helped. It is amazing how quickly this breakfast "disappears".
Children who go to the special school leave after breakfast. At about nine o'clock, the day programme starts for the children who stay on the own premises. Some of the young people go to the "workshop" where they learn to sew, make jewellery, weave or wood carving.
For the others there are different activities, such as a programme for a group of autistic children, which may consist of singing, making music or a kind of gymnastics, a programme for the group of very small children with whom they sing and who go to the own playground, and educational programmes for children who have a slightly higher level. Here, for example, they build with blocks, learn the alphabet or play memory games. All these activities are supervised by caregivers.
At half past ten there is a break. Sometimes there is a disco, football or drumming. From eleven to twelve o'clock the children go back to the programme (sometimes the groups change, or children change groups).
At 12 o'clock food is served again. Then it is time for siesta, until three o'clock.
From 3 to 4 there is another hour of programme and a smaller group of children receive physiotherapy for the second time. At four o'clock it is time for the swimming pool. All children who want to can splash around in the swimming pool in the middle of the compound. It is quite an operation to get all the children changed. At about a quarter to five the children are taken out of the water to have dinner. After swimming, most children wear so-called pool dresses. Long dresses that are easy to put on, so that not everyone has to be hoisted back into his/her normal clothes.
Dinner consists of traditional Ghanaian dishes that are eaten by hand. After this, most children go to the television room to watch a movie. The older children then have some chores to do, like washing the swimming costumes. Around eight o'clock the children go to bed. Most children sleep with one or two other children and their caregiver in one room. Some older children sleep in a dormitory with their caregiver in an adjacent bedroom.
All in all, it is an impressive machine with many wheels that runs almost flawlessly every day, so that all children and caregivers are in the right place at the right time.