A unique Baptism ceremony in PCC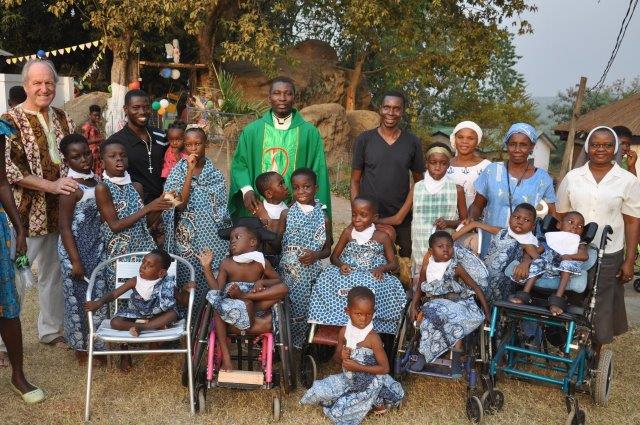 Because of various circumstances it was 5 years (!) ago that children were christened in PCC for the last time.
Since then a considerable number of children have come to live here permanently, 13 to be precise!
So, high time for a new and grand baptismal ceremony in PCC. On the 11th of January this finally took place.
The Roman Catholic pastor, Father Enoch, from nearby St. Theresa's Hospital was prepared to lead the christening service and he did so fervently and with much feeling for the unique setting of the ornately decorated PCC church sitting among the rocks.
Together with all other children, (nearly) all children who were to be christened, were waiting expectantly for what was going to happen and of course, that was not easy to explain to our children. They fully understood that it was something special that was going to happen, not for nothing were they dressed for the occasion, but, what would it be…?
Some of their faces appeared somewhat tense, but most of them were broadly smiling, for example Reuben!
Tension was even more increased by Father Enoch, who arrived later than agreed upon (which did not really come as a surprise as this is Ghana…), but when the ceremony had finally begun, the long wait was soon forgotten.
Father Enoch used simple words known by everyone, for example "God is good!" … and then the children would respond with … "All the time!". Then Father would say: …"All the time" … and then all children would answer … "God is good!".
The gap between Father Enoch and the children was easily bridged and subsequently, there was a constant feeling of closeness and engagement during the ceremony.
Linda was continuously watching and admiring what was happening, while the autistic children, like Jonathan, Sue and Marc Hope were busy doing something else: they remained quietly living in a world of their own.
The youngest residents Matthew and Luke were very lucky, they were already going to be baptized although they had only been living in PCC for a few months. Others like Rachel, David, Tobias, William of Orange, Maame Akète and Blessing had been waiting for years for this moment. But this afternoon made up for everything and everybody was very happy!
During that afternoon we were able to enjoy all those unique and rich rituals used by the Roman Catholic church during a baptismal ceremony, which make such a service extra special!
First, there was the anointing on the breast, then the cross on the forehead, next the white cloth around the neck and, of course, the actual baptizing and the announcement of the baptismal name. Finally, a burning candle with a dancing flame was given to each child, which was rather exciting!
You should have been there to be able to really appreciate the uniqueness of this christening ceremony in PCC. Hopefully, the slide show will give you a nice impression of those wonderful rituals, the actual christening, and the children's reactions afterwards.
Like so many times before we have experienced again, what it was that Jesus meant when he said: "Let the children come to Me and do not hinder them, for theirs is the Kingdom of Heaven".
Because in the face of God all children matter, they are all His children!
Likewise, the children of PCC have a caring and loving Father in Heaven. What a wonderful and happy idea.