A nice update for Daycare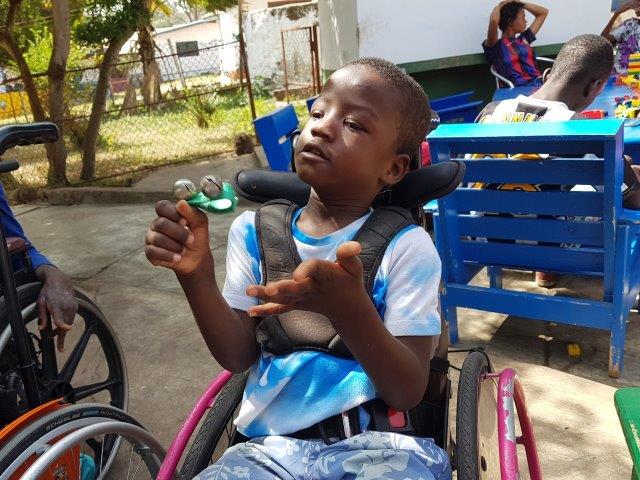 All Daycare programs have been updated again!
A good and appealing day programme, which will make both children and caregivers very happy, is an important part of the daily care for the residents of PCC as well as for the children who come to our Day care centres in the District.
However, as it often happens with the good and happy things in life, in the course of time also attractive programmes become daily routines and disinterest and boredom lie in waiting. This applies to children as well as caregivers.
So, it is very important to update and refresh these programmes on a regular basis. To introduce some new activities and, if possible, to provide the children with new and interactive games.
Besides, it is also very important to evaluate the group composition regularly, because not all children in PCC develop in the same manner and pace. So, changing our offer from time to time is necessary to help the children to realize their full potential.
In January 2023 Sabine van Erp from The Netherlands visited us again. She has helped us "refresh" our Daycare programmes already for the past few years. During the whole month of January, she has contributed to our programmes again, together with Joe Emma and Mama Jeannette and a large group of caregivers.
While introducing new activities it always becomes evident that most caregivers have had less chance during their youth to get acquainted very extensively with the interactive and instructive European (for example) modern games meant for their peer groups at the time.
When something new is being introduced, it is always very important to give caregivers the opportunity to play and understand the game themselves and get some experience in playing. Playing and getting to know a new game or unknown activity is almost always accompanied with much laughter and cheering!
PCC has 5 Daycare groups and updating 5 programmes is quite a job! At the same time reorganizing the composition of the groups and reappointing caregivers make it a considerably big change.
Besides, there are 3 programmes for the Daycare centres in both Nkoranza and Donkro Nkwanta which have also been included in all changes, so, it became something like a "Total make over"!
All in all, a huge job, but fortunately the work was done in time and with a fine result under the supervision of Sabine van Erp. Everybody happy and meanwhile both caregivers and children have enthusiastically dived into the brand-new day programmes.
A cynic might say:"…until also these programmes have become routine and  boring again…", anyhow, isn't that the way it is: "the circle of life"? That is how we all keep on the move continually…!
That is all very well, certainly for a Community like PCC. Have a look at those happy faces in the pictures.
We have expressed our gratitude to Sabine by presenting her with a nice gift during her send-off party! PCC is very fortunate to have so many good friends!
Long live the new day programmes!
Well done, caregivers and children, well done Sabine.
See you next year!