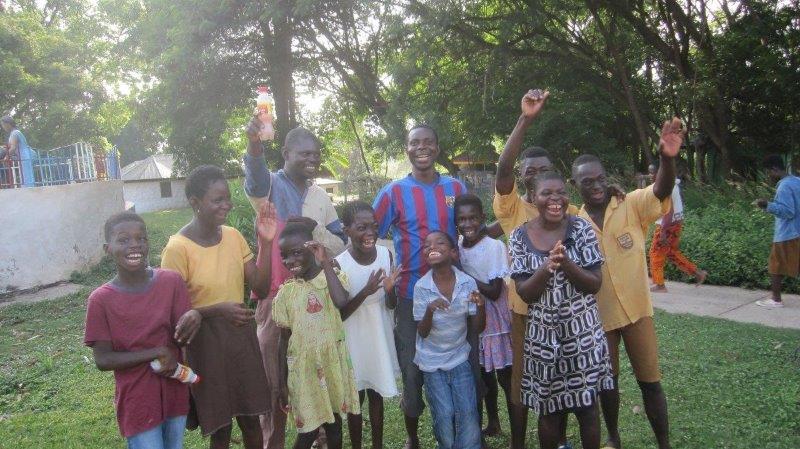 Today some interesting news about Ghana and PCC.
Arrival new resident and we name him Samson
At the start of July, we welcomed a new resident in PCC, a boy of about 6 years old, abandoned by unknown people in the neighbourhood of Wenchi. Unfortunately, the authorities have not been able to trace his relatives and they have urgently requested us to take care of him. It is a quiet boy with autistic characteristics. He does not talk (yet), but he eats a lot! Who knows he will become as strong as the Biblical Samson because of his great appetite….
Departure of Edna
Many guests who have visited us during the past years will have enjoyed the hospitality of our hostess Edna.
We were very satisfied with her loyal commitment and positive character! Sadly enough, she has told us recently that for reasons of her own she has found a new position elsewhere. She will be leaving in September, and we wish her the very best! Would you like to meet Edna before she leaves, be sure to come to PCC – Hand in Hand very soon!
Recognition for the work of PCC – Hand in Hand
During the past period we have received some positive forms of recognition for the work we do in PCC.
We were visited by four people of the Psychiatric Hospital of Accra. They came for an orientation session on how to organize a good day programme for residents. They were very enthusiastic and hopefully this will lead to a better day programme in Accra!
Soon after we received a request made by a healthcare organization in Bolgatanga in the north of Ghana. They would like to profit from our expertise on Day care activities, which we organize for many young people with special needs in various neighbourhoods and villages.
One of our staff members went to Bolgatanga for fieldwork in July. With its results we will be able to decide on how we can offer them our best support.
Ghanaian economy and consequences for PCC
As you will certainly know: the whole world is encountering problems because of high oil prices and an imminent shortage of grain because of the Russian war in Ukraine. It is happening in Europe, but the people in Africa are suffering the most, certainly also in Ghana.
Prices are rising disturbingly rapidly; experts say that inflation is over 50% (…!) since last year, besides, the Ghanaian economy is also negatively affected for other reasons.
The Cedi is devaluing at a great rate and the Ghanaian government has solicited the IMF for its support during these difficult times.
For PCC the consequences are clearly noticeable: prices for food and personal health care resources are rising daily, although we try and buy in time and in bulk to keep ahead of the rising costs. Nevertheless, life is inevitably becoming more and more expensive at a high rate.
Fortunately, our residents are not short of anything yet!
Visit on behalf of the Ananse Foundation
Rüdiger and Susanne Gailing of the German Foundation Ananse visited PCC in July. They have been friends of our Community for over 20 years and they are helping us in different ways, for example by supporting our Outreach work.
We value their opinions and ideas very highly. They offered us advice on useful means of improving the communication with residents who do not speak (well). We are very grateful for such good and loyal friends!
And … more good friends of PCC are coming to our Community these coming months!! Fortunately, the number of visitors, which has shrunk considerably since 2020 because of COVID-19, is slowly increasing!
More about that in the next Alberts Corner!