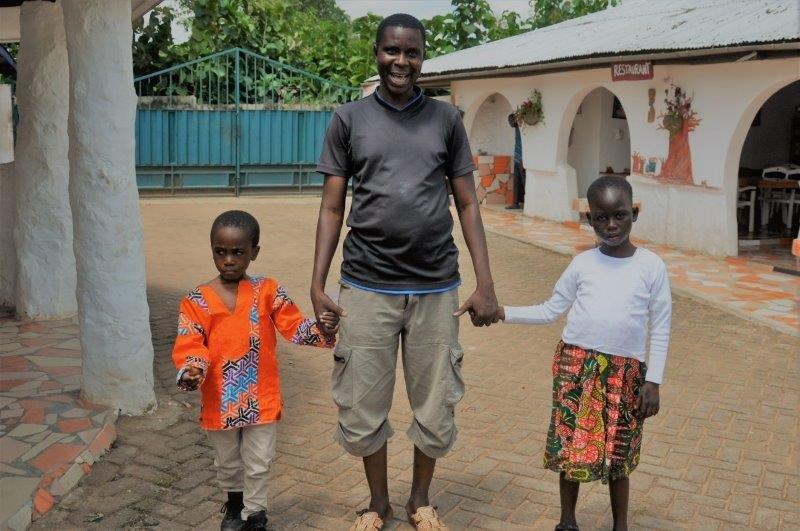 It's always very special to experience the arrival of new residents in PCC,
especially when you can read the sincere joy off their face mostly just after just a few days, while you can also see the happiness and open mind of everyone in PCC for the new residents.

In October we could experience this sensation another time, that was after the arrival of a small boy of about 5 and a girl of about 7-8 years, both coming from Kumasi Children's Home to PCC.

KCH is one of the Children's Home of the Ghanaian government and we have already good contact with it for years. For all kind of reasons children come to PCC, but the place is not set to give good quality care to children with an intellectual disability

Ten days before they came to PCC we had seen both children in Kumasi and they then touched our hearts. Both children were abandoned by their families some time ago, that's why they were sent to KCH. Both children can't talk, but are able to make some particular sounds when trying to show us what they like and what not.

After their arrival both children were wholeheartedly welcomed and accepted in the Community where they received their new PCC-name.
The boy is now called Marc Hope, referring to the apostle Marc, but also to a good friend of ours who unfortunately died earlier this year, while the girl received the beautiful name Sue, referring to the Biblical Susanna, but also to our autism expert Sue Hatton.

Both Marc Hope and Sue do have a mild intellectual disability and are showing symptoms of the autistic spectrum, while Sue is also suffering from epilepsy.



During their first days in PCC they are trying to gradually understand and learn more about their new environment. Obviously they are very happy with the fact that in their new place they are allowed to run around, to do things as they like to do and to choose for themselves whom to interact with. That is very different from staying inside in a small room the whole day or walking up and down in a corridor.

Marc Hope and Sue probably never saw a swimming pool before, but Sue enjoys it from day one on, while Marc Hope needed just a little helping hand to make him feel safe in the liveliness of the pool.

It is remarkable that children are having difficulties in standing or sitting in one place, it's a bit the same as we have noticed from Sara before. Also during dinner time they prefer to find their own place or even like walking around with their bowl.

Fortunately Sue responds well to the treatment with anti-epileptics, though (like always) it needs some finetuning for the right dosage.

Sue and Marc Hope are adapting well to the Community life and are obviously very happy with their new environment. Their initial straight face opens up more and more and a happy smile in combination with some nice sounds makes clear that they have come home!

The name Marc Hope also gives expression to our hope that Sue and Marc, who both had a poor start in life, from now on can enjoy a good, safe and joyful life in PCC.

We all feel happy and are welcoming Marc Hope and Sue in our Community by saying a big Akwaaba!