The Little One and Inge in PCC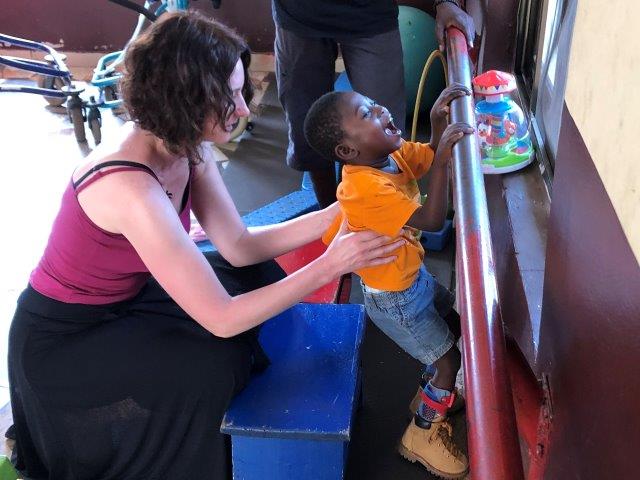 A new resident in PCC: Maame Serwaa, ("Aketè = The Little One")

You will surely have met her when visiting PCC the past three years: little Maame Serwaa.

Initially she came to our Daycare on a daily basis for reasons of malnutrition and slow development, but meanwhile she has been here in our Community every day of the week for more than three years now, so we have decided to formally accept her as an official resident of PCC.

We first met in the summer of 2017. She was a tiny and seriously malnourished child of 2-and-a-half years old. Because the first help given to her and her mother outside of PCC was barely successful, Maame can be found in PCC daily since October 2017.

Maame Serwaa was prematurely born in 2015 after a pregnancy of 7 months and is developing very slowly.

She wasn't able to speak when we met her – she could only utter a few sounds – and she was unable to sit upright. Fortunately, the latter has changed in the meantime, also thanks to the physiotherapeutic exercises of Inge Maters.

Maame is well loved in PCC and is called Aketè which is a term of endearment meaning "Little one".

She takes part in the daycare and physiotherapy, that is to say….. when she feels like it, because Aketè can be rather stubborn and even a little naughty….., which makes her even more attractive!

Just have a look at that naughty twinkle in her eyes!

Since 2019 her mother Agnes has a job in PCC. She accompanies Emmanuella when going to her school in Nkoranza and she also supports the team in the main kitchen.

For more information about Aketè:

https://operationhandinhand.nl/?p=7379


Inge comes again: converging the various PCC lines of action! 

During Inge Maters', our expert physiotherapist, last visit different lines of activities of PCC nicely met.

Inge did not only meet and help residents of PCC who needed her expertise, but also various new children who are visiting the recently opened Daycare Centre in Nkoranza every day. In addition Inge also examined and advised other children from the wide surroundings of Nkoranza, who came into the picture via our Outreach team, for physiotherapeutic support and/or necessary medical devices like wheelchairs, orthopedic shoes and braces.

It is a wonderful sight: the joint forces of Inge and various others in PCC.
We can watch Ameyaw, who is disabled himself on both legs and has a workshop of his own in Nkoranza (for wheelchairs and tricycles and so forth) plus a parttime job in PCC (!), intensively working together with Edward, who is partly exempted from his job as caregiver to perform some minor repairs on wheelchairs in PCC.
And ….. even our own young resident Stephen is regularly joining these two men after school and is meanwhile becoming very handy in doing minor repairs himself!

It is a wonderful and very advantageous trio, sometimes complemented by a few other caregivers, in particular Adams. It is starting to look like a true orthopaedic workshop!

The result?
Thanks to the work of Inge and this team many wheelchairs for our residents as well as for children from outside our Community have been repaired. Furthermore, many children are walking around most happily in good orthopaedic shoes and neatly fitting braces now. All done by this wonderful team!

Not to mention the practical training sessions given by Inge to our caregivers. Or all the very useful videos filled with physiotherapeutic exercises and the accompanying handouts with photos of those same exercises, all made by Inge and kept in PCC to help caregivers and children to move forward. Really fabulous!

We are very grateful that Inge helped us to make another big step forward in PCC!