The growing fame of our physio-expert Inge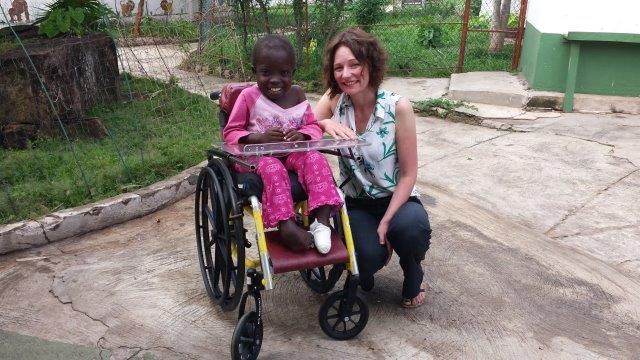 Last summer Inge Maters, our expert on physiotherapy, visited PCC for the fourth (!) time since 2015
and also this visit hasn't gone unnoticed!

Just like in 2015 Inge Maters stayed here together with her entire family: her husband Frank and her daughters Sofie, Jasmijn and Anne. The five of them have made themselves very useful in PCC for weeks and each in their own way. From Special Attention to repairing wheel chairs, from supporting the Hospitality concept of PCC to motherly care for the youngest children in PCC: Inge, Frank and the children faced whatever challenge came on their path.

Inge has used her great expertise in helping many of our special needs children in PCC. If I wished, I could have copied success stories from years back, because again she has been really excellent!

From the moment Inge arrived in PCC until the moment she left 4 weeks later, there was a constant flow of advice on exercises, positioning, wheel chairs, shoes and braces besides many training sessions for caregivers.
Inge also provided us with enough orthopaedic shoes, braces, good wheel chairs and other aids and devices. PCC has in the mean time a well-utilized centre for physiotherapy at its disposal!

All wheel chairs, shoes and braces are made to measure for our children in our small physio workshop and Inge has also made instruction manuals consisting texts and pictures on all exercises for this or next year for our physio-caregivers.

It is (again) really wonderful to experience how Inge's input releases new and much enthusiasm among our caregivers and Joe Emma.
After a very intense week with Sue Hatton (read AC-8) our caregivers were again given the opportunity to learn from an expert from the circle of friends of PCC.
It is a great privilege to have such experts among your friends!

Inge's ever-growing fame
Because of the fertile interaction between our Outreach team and Inge not only the residents of PCC were able to profit from her expertise but also a considerable amount of special needs children living in the vast surroundings of Nkoranza and who are known to us through the Outreach programme.

I would like to illustrate this by telling Linda's story:



Linda is about 11 years old and lives in small village in the Nkoranza district. She was born with the medical condition spina bifida. That is why she is paralysed in both legs and she has lost control over her intestines and bladder. For this reason she is shunned by all villagers.


Intellectually there is nothing wrong with her, but because of the circumstances she is not attending school. Since her mother died in 2018, her father has cared for her. He has good intentions, but he has to work on his farm too. Linda is spending most of her time completely alone, lying or sitting inside their house.

Late last year our Outreach team found her there and at that time she had some big and deep pressure and bedsores. Since then we have been trying to help her by providing her with good bedsore pads and bandages together with good health care instructions. After 6 months her wounds have become smaller and cleaner, but not yet completely cured.


When Inge was here, we invited Linda and her father to come over to PCC for a week. Inge had brought Linda a decubitus matrass on the plane and a wheel chair was made to measure for Linda by Inge in PCC.
Inge also taught Linda how to make the muscles in her arms stronger and a week of protein-rich food appeared to do her extremely good. She is able to move about in her wheel chair and she enjoyed being among people living in our Community.

After a week Linda and her very emotional father returned to their village happy and grateful for all help given in PCC. Next step is to try and make it possible for her to go to school via our Outreach team. Of course, life is still not very easy for Linda, but much better than before because of Inge's great help.

Like Linda there were about ten more children in the Nkoranza district who have benefitted from the help and advice of Inge.
Her fame is ever growing! It is a wonderful thing that so many children can be helped in this way!