Storm in Ghana and in Holland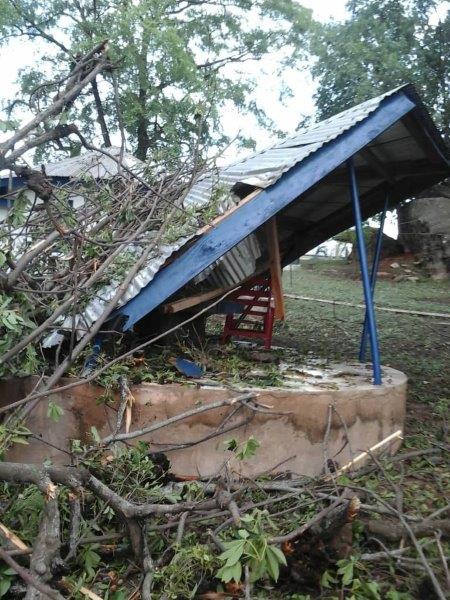 Storm in Ghana and in Holland

Storm in Ghana

Just like in all other years the dry season is over now and the rainy season has started. Usually, the first showers and thunderstorms are really heavy.
Similarly, this year.

On Saturday April 10th the weather broke and Nkoranza and PCC had a violent storm. When the next day the damage was assessed, it appeared to be considerable:
The wall around PCC had been damaged in different places by falling branches and blown-over trees. A Summerhut close to the guest lodges had been hit and severely damaged by a fallen tree. Last but not least, the main electricity network from the power station to our community had been hit by falling branches and a tree, damaging various wires in their fall.

As a consequence: no electricity for PCC, so also no light for two whole days until the mains were finally repaired.

There was not only considerable damage in PCC, but also in Nkoranza and its surrounding villages.

The giant force of nature has shown us again and put its finger on the fact that in a flash and out of the blue, a storm can gather and burst and there is nothing left for us to do than hide and wait until the storm has blown over.
Just like it was ages ago, it still is.

Stormy weather in The Netherlands

This time also a more personal story, because last March Jeannette and I suddenly found ourselves in very stormy weather, when completely out of the blue a very suspected tumour was found in Jeannette's abdomen.
All who have experienced something like this, know the impact of such a diagnosis.

Suddenly our future together fell apart and days of optimism, sorrow and anxiety rapidly took turns. In Jeannette's case the 5-week-storm subsided after a massive surgery on her abdomen on April 14th.

We did not stand alone during this period of stormy weather in our lives! We could not have imagined in any way, how many people have supported us in many ways, which gave us a tremendously warm feeling.


As well as in Ghana as in Europe many people burnt a candle for Jeannette. During surgery she was carried on a cloud of prayers and surrounded by a wall of love. No storm would be up against anything like this, hence it has completely subsided by now! Hallelujah!
Surgery was a success and in the meantime Jeannette is in the process of recovery.
During surgery -amongst other things- a tumour of 1,1 kg and 15 cm diameter was removed.
Contrary to the expectations of the specialists and to their surprise and amazement no suspected evidence of malignancy or metastases was detected!
Truly a miracle! And what a great relief!

We are immensely grateful that God has spread His wings over Jeannette and that He protected her against all dangers!
In hospital it appeared that even two holy saints were standing beside her (see picture)!

After this thunderstorm had more or less subsided a less violent storm followed: during Jeannette's stay in hospital, she was infected with the coronavirus (…!), how distressing!
And …. at home, four days after her discharge from hospital, I – as her caregiver – also fell ill with COVID-19…!
Fortunately, it seems that for the both of us the course of coronavirus is mild.

In PCC also many children knew stormy weather in their lives before finally finding a sheltered place in PCC. In our Community, which is proudly named Peace of Christ Community, they are protected from the wind and put into the light.

Storms break in each and everyone's lives, but fortunately most storms also subside after a period of time.
We sincerely hope that you will experience the same when you suddenly find yourself in the midst of a violent storm, just like Jeannette and I recently have.

We have felt the power in these Ghanaian words of wisdom:
"Onyame bekyere" = God will provide!