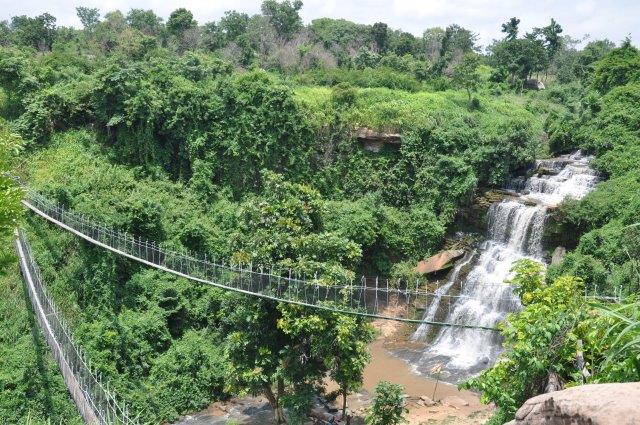 The name of the town of Kintampo had been in the air for weeks
and those PCC residents who are unable to speak well, had found their own ways of expressing: Kintampo, KINTAMPO, KINTAMPO!!

Kintampo stands for a bus trip for the whole of PCC, so all residents and caregivers together, a total of 150 people, to the waterfalls near Kintampo, which is a one-hour-drive from Nkoranza.

It is a festive year (again!) for PCC Hand in Hand, because for four of the PCC Board members 2019 is a jubilee year. Baffo is celebrating his 25th anniversary working in PCC, Joe Emma has worked here for 20 years and both Jeannette and I for 10 years. So all the more reason for throwing a wonderful party and when there is reason for a party in PCC, a road trip to the waterfalls of Kintampo should be part of it.

Finally the big day arrives.
Two giant OA buses have been rented for this day and everybody can be seated or can find a place standing or sitting in the passageway. Those who are travelling in the same bus as Kofi Asare is, are lucky, because his non-stop drumming and singing are making the trip a fabulous party.
We even leave well before the planned departure time (which is rather remarkable in Ghana), which makes it extra clear that all on board are really looking forward to this day trip!
The children are amazed by what they can see from the bus windows: so that is what the rest of the world looks like. From the outside world many village children are waving at us, because it doesn't happen very often that two busses full of children are passing though those villages.

The Kintampo waterfalls have been made extra safe after a tragic accident, which happened two years ago. A tree tumbled down the hill killing 20 pupils standing down by the waterfall. Many facilities have been renovated at the same time, too.



Also, visitors can take part in a Canopy tour: a walking trip including a wobbly rope bridge alongside the waterfalls. Many would stiffen with an acute fear of heights crossing that bridge. Do ask Joe Emma about it …..

After arrival at Kintampo you will have to walk down almost 200 steps to the waterfalls (and also almost 200 up again), which is not an easy task for many of our residents, but the waterfalls are tremendously attractive.

The most active and fit residents of PCC and many caregivers dare to go under the waterfalls, others are watching in awe the force of the constant downpour of water. It is wonderful to see the admiration in the children's eyes and all those happy faces. The caregivers, too, are having an amazing day because of the "field trip feeling". Many pictures are taken during the day to be able to show the people at home: we have been to KINTAMPO!

After a few hours of intense enjoyment everybody is going up the steps again to a nice picnic spot to have a delicious meal, which was prepared for us by Janet and Fabea in PCC the day prior to our trip. An amazing achievement of our excellent kitchen staff!

After a soccer game near the site of the waterfalls (which also belongs to the tradition) we have to return home again eventually. Tired, but satisfied we return to PCC late that afternoon.

All four members of the Board are looking back on a wonderful and very festive anniversary. Undoubtedly all residents have fallen asleep with a wide smile on their faces and they will have dreamt about waterfalls during the whole night.
Sweet dreams and one can hear: Kintampo, KINTAMPO in their sleep!