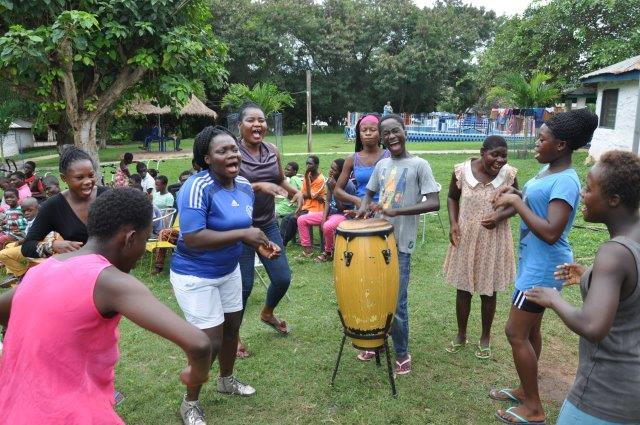 An update on PCC, November 2019

The story of the prodigal son
Yaw Peter has been living in PCC for ages, but sometimes his old preference for funerals comes to the surface again and then he will suddenly disappear from PCC – especially on Saturdays – by climbing over the wall. Subsequently he will attend one of the many funerals in town.
There they like giving him a few drinks and as a result he will act like the town's fool and people will be making fun of him.
Not good for him, but apparently it is very entertaining to his audience.

Not long ago he even walked back to his old village Nkwabeng, but apart from the wrong attention during funerals people ignored him completely. He slept in the streets in unhygienic conditions and lost considerable weight. Joe Emma and others from PCC visited him a few times in Nkwabeng to persuade him to come home but each time Yaw Peter would run away. Apparently the grass was still greener on the other side despite his deplorable circumstances.

Fortunately, this has changed in the mean time. He made clear that he wanted to return to PCC and in the mean time we have welcomed our prodigal son back in our arms again.
He says he will never run away again, the future will tell…..

A new resident: Dora
We have admitted a new and permanent resident to PCC. It is Dora from Nkoranza, a young adult who had already come to our sheltered workshop for a few months. Dora is mildly intellectually disabled and suffering from epilepsy, she is a very kind young woman and she is helping out in the sewing room of the sheltered workshop.
Her parents have passed away and she was living in a house amongst alcohol and drug addict relatives. Unfortunately she was not safe there which became apparent not long ago when she was beaten up by her brother who came home after a night out…..
Dora's neighbour took good care of her and she brought her to PCC where we can offer her a safe home. Welcome, Dora.



Woodwork in the sheltered workshop
In December we will start a new activity in the sheltered workshop: the craft of making woodwork!
A number of our residents will be taught the skill of making woodwork by an expert woodwork artist from our neighbourhood. We are very curious to find out whether it will become a success. And, whether it will be possible for our youth to make fine woodwork products in the future.

Kumasi Children's Home
Also this year we paid a visit to Kumasi Children's Home, a good partner of PCC in Kumasi. The result being that soon two special needs children will come over from KCH to PCC: an about 5-year-old boy and an about 8-year-old girl. We are looking forward to their arrival.
More about their coming to PCC in the next edition of Albert's Corner.

Caregivers Day 2019
It has become a firm tradition in the mean time, which we have also honoured this year: the organisation of special PCC festivities in October, Caregivers Day!
This festive event is organized to express our immense appreciation for the good work and the commitment of our caregivers and luckily the caregivers are very content with this: it is their special day!

This year was a day of happiness and laughter too, during which the children were also not forgotten: there were soccer matches and pool games for them.
In the evening all caregivers were free from work and thus able to have a wonderful party together and with the Board.
Of course there were little presents and tasty food, different games, which would absolutely be fitting for a Dutch King's Day, ánd a lucky dip! There were only laughing faces, which was exactly the idea!

The caregivers at their turn surprised the PCC Board members with a special gift, a Citation to honour the Anniversaries of all Board members in 2019!

Caregivers Day is over again and our caregivers' happy memories should well last them until Caregivers Day 2020!