Life goes on in PCC after corona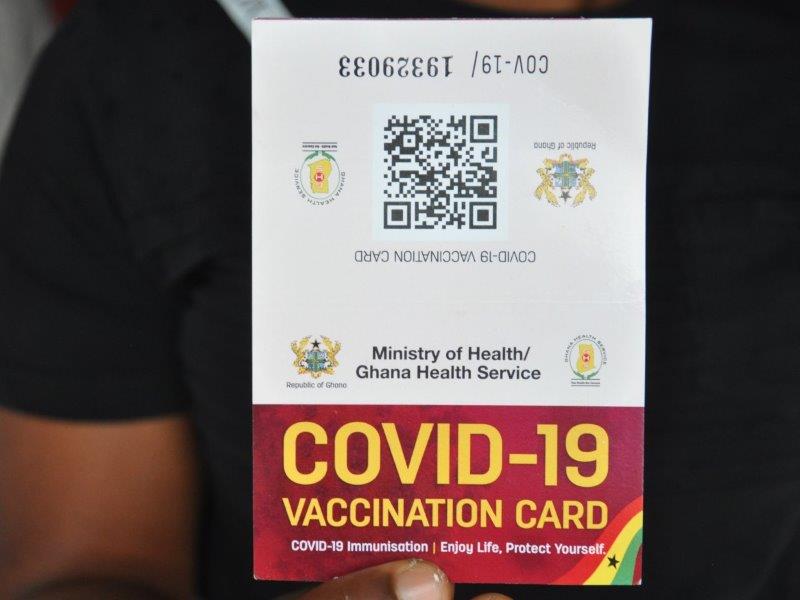 Many Europeans have been vaccinated against COVID-19 in the meantime, however, in Africa this is certainly not the case.

In September the WHO announced that only a meagre 4% (!) of the African population has been vaccinated, this is also true for Ghana.

That is why we were much surprised when this week the local radio station completely unexpectedly summoned all people from the age of 18 to get their vaccines the following day…!!
During the next two days, many people queued up in different places in town and our caregivers and a few older residents rapidly joined these lines, too.
They have all got their first injection of Astra Zenica and they must report back for their second shot in a month!

As was to be expected, the next day a few caregivers were a little troubled by their arms, some of them felt under the weather, but, fortunately, 24 hours later the worst was over for all of them.
Have a look at these photos taken of proud caregivers and their immunisation cards, but also of those in which these same people enact (slightly exaggerated…) their post-immunisation troubles.

It has come to us that vaccination on a large scale is taking place in Ghana now. Apparently, Ghana has recently received a significant number of vaccines, which is fabulous news!

And ….. slowly but certainly guests are beginning to find their way to PCC again! They are not coming in large numbers yet, but, things are starting to get moving again after 1 ½ years of stagnation.

Experts visiting
Amongst these visitors there are some very special ones!

One of them is Sabine from the Netherlands, who is going to help us improve and extend the daily programmes in PCC (= our Daycare-groups) with her expertise, in order to make these programmes more diverse. She will be here for a month.


She has also brought with her many new and convenient things for these programmes and of course we have thanked her for this quite extensively!

Also, Sofanne from the Netherlands is a most welcome visitor! She worked here as a volunteer for a few months 10 years ago.
She has become a doctor in the meantime and from now on she is going to contribute to an even stronger relationship between PCC and the Dutch foundation Hand in Hand in order to support the PCC Board as much as possible.

Last but not least, Sue Hatton from the UK is also visiting us, which is not for the first time: she has been visiting us from 2007(!) and on.
Sue has been our expert on autism for a very long time now and she has also helped us tremendously with the form and content of the training programmes for our caregivers.
She is running some special workshops on autism for our caregivers, and she will advise us on the best way of giving care to some of our autistic children like Solomon, Jonathan, Sara and others.

It is a great thing to watch Sue communicating – in a seemingly simple manner – with autistic children, who are completely living in a world of their own. Especially those children with whom our caregivers find it difficult to make any contact at all, which is, by the way, totally understandable.

Sue never comes to PCC empty-handed, this time she also brought several nice and useful things, for which she has been thanked in an appropriate way!

We are very grateful that PCC has been spared from COVID-19 infections up till now and we sincerely hope that this will remain unchanged, at the same time we realise that our children, except for a few older residents, have not been vaccinated (yet).

Thus, life in PCC is slowly returning to the "old" normal after an extraordinary period of COVID-19.
It has resulted in a number of very nice pictures, though, as you can see!