Jubilee House and 2 new children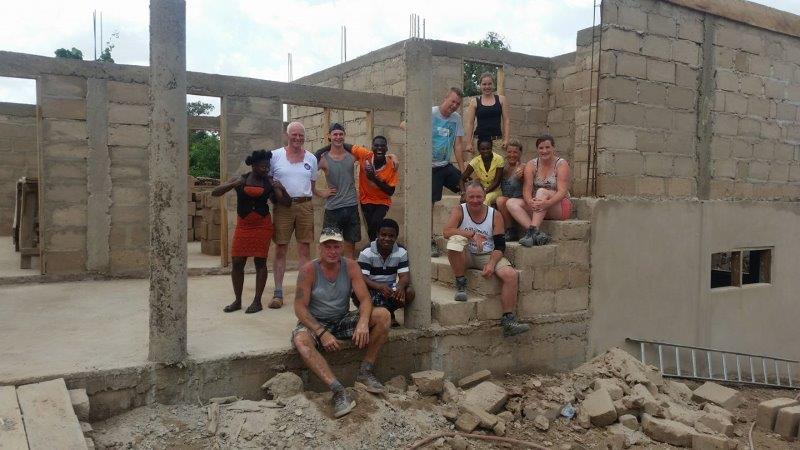 Gradually the climax of this PCC Jubilee year comes closer: the official celebration of the Silver Jubilee by the end of December.
But already before that there are more beautiful and festive moments like the quick progress made in the building of the Jubilee House and certainly also the coming of two new children to our Community.

On October the G8 group from Groningen, Holland, came to PCC again. It is already the 6th time this group visited us and though the composition of the six groups varied between 2007 and 2017, all groups were headed by one man: "Mr. G8" = Bernard Meier, already since 2007 a passionate friend of our Community

A G8 visit never goes unnoticed!
After a long preparation period and great fundraising they get to work in PCC almost immediately and full of energy.
This year we invited G8 to support us in building the "Jubilee House" , a new building for about 6-8 residential children and three caregivers and a copy of the house G8 has built in 2015.

We decided to build a new house because on and off we do accept new children in PCC and in conjunction therewith employ more caregivers.

Of course the demand in Ghana for good care for children with an intellectual disability is very big and we will never be able to meet all the demand in PCC, but if we see a good opportunity than we like to accept some more children, also because recently we were able to bring 2 young adults of the sheltered workshop back to their families and villages.

A new house under construction and new children coming, it often goes together and makes all of us happy.



Thanks to the huge efforts and great skills of the G8 group an enormous progress was made with the construction of the Jubilee House in just two weeks, starting at foundation level and reaching the point that the carpenter can start working on the roof, a great achievement.
Believe me when telling you that the sun was beating down in the 2nd part of October with almost no rain, but we could not get G8 out of the construction site, also not the three ladies of the group. Well done!

And last but not least: G8 is not only helping us with constructing the Jubilee House, they also pay for all construction costs!!
Wonderful, many thanks to G8.

In October we met two disabled children in Kumasi Children's Home and we decided to accept these two for a transfer to PCC.

The smallest one was a nice boy of about 4 years with a clubfoot, who cannot talk (yet), but seems to understand a lot. At his arrival in PCC he gets the beautiful name David ("beloved").
The Biblical David was also a little man who proved to be capable of achieving something big and we hope that our David can also do great things and make good progress in PCC.

And the other child is a boy of about 7 years with a beautiful smile and a cheerful appearance who will fit probably perfectly in PCC. He is able to walk being slightly spastic, but his speaking is still difficult. After arriving in PCC he gets the name Reuben ("behold a son").

In this way we really get in the mood for the upcoming Jubilee festivities.
With a splendid new Jubilee House expected to be ready by the end of December and with Reuben and David, who we warmly welcome in PCC, their new home.
They are just in time to participate in the Silver Jubilee celebration…!