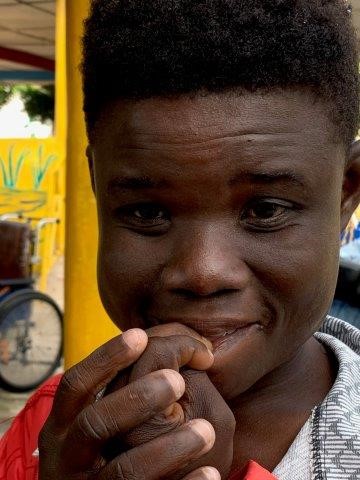 Born: 1993
Financial adoption: Stephan and Marjan Emons – Bonink; fam. Oostveen; G. Jansen, all from the Netherlands.
Joyce was probably born in 1993 and came to us like many of our young people from the Osu Children's home in 2003.  Her story is unknown. Most of the time Joyce is a happy soul and loves to embrace people, sometimes when they are least expecting it.  She is probably autistic and does not speak but seems to understand quite a lot as she enjoys helping with the smaller children.  This can include getting them out of the pool after swimming time and helping them dress.
Sometimes Joyce will suddenly scream or overturn chairs, probably when she feels things are not going as she feels they should.
Joyce can get distressed when the familiar pattern of the day changes as these changes worry her and she does not understand them. Like most autistic individuals she likes the consistent and regular pattern so beautifully provided for the majority of the time at PCC.
Joyce does not like to leave PCC for school especially if there are mangoes about to fall from the trees – she would prefer to wait and see if she can catch one to eat.  A more predictable and comforting activity than the uncertainty of the school day away from PCC.