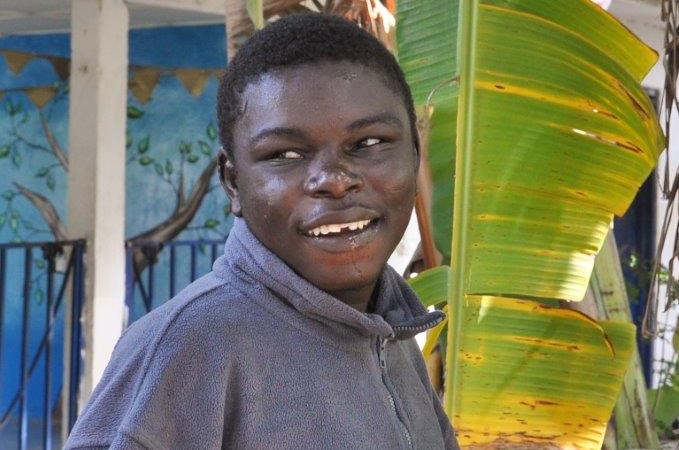 On the 18th of March PCC was stunned and shocked by the sudden death of Peace
who seemed to be very healthy until just a few days earlier.

Peace came to PCC – Hand in Hand in 2000 via Osu Children's Home, when he was about 6 or 7 years old. Since then he spend his life in our Community, for almost 20 years!

Peace was mentally handicapped, suffered from epilepsy and was autistic.
At first Peace was wandering around (there was no fence at the time) and he had to be tracked down regularly.
When coming to PCC he could barely speak, but in the course of the years he developed a language of his own. Unfortunately this language was incomprehensible to almost everyone, but Peace didn't matter and approached many persons to give his powerful and inimitable oration over and over again.

Peace loved gathering various items, like different shoes, pebbles, bottles caps or things that reminded him of coins. Peace liked confiscating these items and he had great difficulty in giving them up again.





Since 2000 Peace had grown from a little boy into a strong adult and he obtained a special status in PCC. Joe Emma was once his caregiver and knew very well that Peace should be firmly led and not bossed.

Peace preferably went his own way, he often walked around the PCC premises on his own, he cherished this feeling of freedom.

Despite his strong and grown-up body he had a friendly and almost child-like face. If you were lucky he would show you his mild smile as a sign of his inner peace.

Until 3 days before he died he was quite healthy. He then got fever (one thought of malaria) and his breathing was not normal, but on the day he died the doctors didn't see any reason for an admission in the Hospital.
A few hours later he passed away, it all feels so very unreal.

On the day of his death Peace was buried in Nkoranza after a short farewell ceremony in PCC.
We hope and pray that Peace will now find everlasting Peace in the arms of his Creator and Heavenly Father.

Peace, rest in peace.