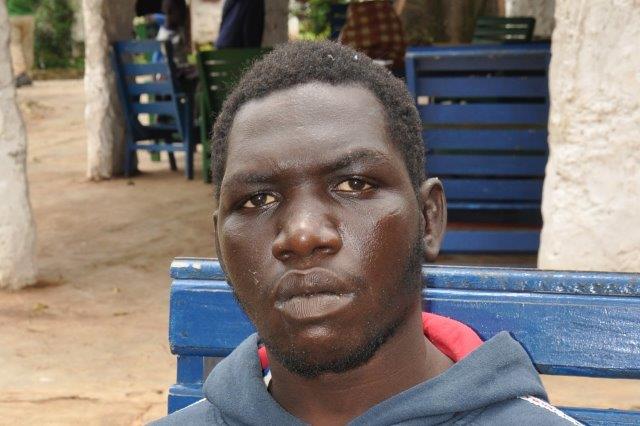 Only a few weeks ago our Community had to bid a final farewell to Peace and already so soon after we lost another resident, Lazarus, who was always looking so strong.

Those of you who have read the recent Alberts Corner might have understood that things were not going well for Lazarus.
Due to serious gastro-enteritis during the past months and despite various Hospital admissions and many doctor's prescriptions he finally passed away by the end of March.
He was still alive during the early morning walking hour and  sitting in his chair (with some support though), but soon after he was breathing his dying breath.

It's likely that many of you will look upon Lazarus' life as not easy, a life full of  difficulties.
In 2001 he was transferred from the Accra psychiatric hospital children's ward to PCC, by then he was about 10 years old. One year before he was found on a beach somewhere, obviously abandoned by his parents.

In the slide show among others there is even a picture of Lazarus from 2001!

Life at the ward had not been easy for Lazarus, a psychiatric ward is definitely not the right place to be for a child with serious disabilities.
In those days he seemed to be very frightened and never made any contact to others.

Lazarus was suffering from epilepsy, was also autistic and intellectually disabled and his motoric skills were very limited. For sure quite some handicaps but that was all life offered him.




Nothing to be jealous about but we strongly believe that he enjoyed the peaceful environment and good care in PCC for as much as 18 years.

Playing with sand and soil made him calm and quiet, it was something he liked from the beginning on.
Sometimes he would stare at you with his special and very faithful gaze, but it was unlikely he would smile at you.

Over the years Lazarus became big and strong and could roar like a lion, but during the last months he wasn't able to roar anymore. Ultimately the lion Lazarus was hit by an apparently uncurable disease.

On the 30th March all of us bid farewell to him in the PCC church and after that he was brought to his last resting place on the Nkoranza cemetery.
There he was buried next to Peace, for ever united as brothers, both waiting and longing for the new Jerusalem.

We feel sad about his death but are grateful that we were able to care for him in PCC for 18 good years.
Also Lazarus was one of God's children and we pray that he will now find everlasting peace in the arms of his and our Lord and Saviour.

Rest in peace, dear Lazarus.