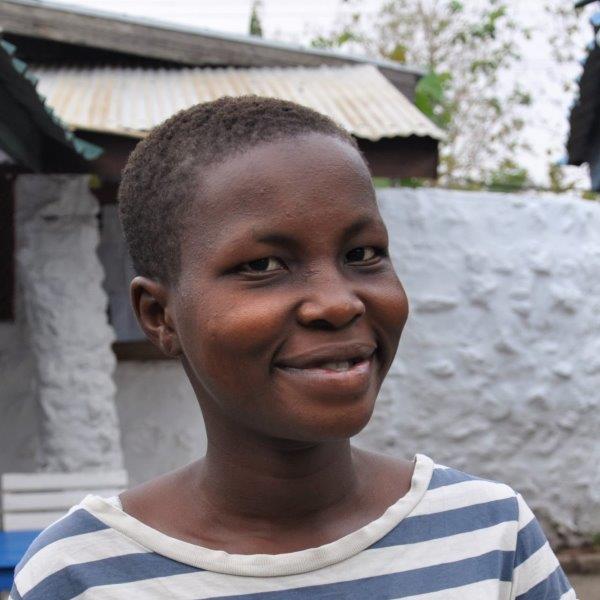 Born: 2002 – 2003
Financial adoption: NN Anonymous

Eno Mary was about 8 or 9 years old when she was admitted in August 2011 in Osu Children's Home after being abandoned in Sekondi Metro. In March 2012 she was transferred to PCC.
Eno is moderately intellectually disabled.  On arrival she was not able to talk, showed some fear in her eyes and it was difficult to get her accepting the structure and joining the daily program of PCC. But since long she adapted to her new family and her new home and her eyes are now showing many signs of happiness.

She has a lot of energy and and has started talking with bits and pieces! Otherwise she will know how to makie things clear to you!

Eno tries to interact to people with direct eye contact, she  has a nice and expressive face.
It's obvious she wants to be loved and that is what she receives here!

Her sister in PCC is Dede and once in a while these young ladies are fighting, because sometimes tboth like to wear the same clothes….

In M'Afia, who is abit older, Eno Mary has chosen an example when it comes to wearing special clothes, carrying dolls on her back and walking around with a piece of paper or a notebook while asking others to write their name in it.

Eno Mary often prefers to go her own way on the PCC compound, she finds it more difficult to function in a group .
She goes to the Shalom Special school and attends the PCC Summer School as well.

She also loves the swimming pool, music and dancing and playing and she also likes to eat, though sometimes she has problems with eating, luckily enough it's only for a short period.

PCC has proven to be a great place for Eno Mary, she has developed gradually into a very nice young lady!