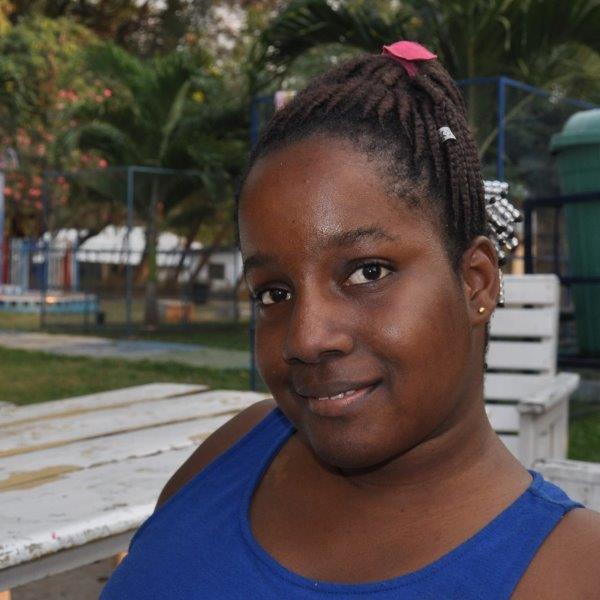 Born: 17 december 2004
Financial adoption: Jeannette and Albert van Galen, the Netherlands / Ghana.

Emmanuelle is the youngest inhabitant of the Hand in Hand community and was brought to us a few days after her birth (17 Dec), on the 21st Dec 2004. She was transferred from St. Theresa Hospital in Nkoranza, a few hundred meters away from the Hand in Hand community. Her parents did not want her and made it clear to doctors and staff of the hospital that she would be deposited in the bush where she would die. The case was brought to an emergency board meeting of the Hand in Hand Community and it was decided to adopt her into the community. Emanuelle has neither arms nor legs, but seems otherwise normal. During the day Emanuelle is cheerful and smiles but at night she can cry a lot. The caregiver of Emanuelle, Joyce, used to protectively carry her on her back. Now, in her third year, she likes to sit up, look around and she seems to really pensively understand what she sees. She talks a little, is learning how to sing and can drink her milk from a straw. When she does not like something she vehemently shakes her head 'no'. She loves to play with people she has got to know, like John Adzo who is her big buddy. Philo and Emanuel are also allowed to come very near. She then laughs, picks up colored blocks from a table and puts them in a basket, or exactly throws them off her tabletop at the other side! She loves to move her body independently and to float in the pool. She then bathes together with Lisa and others on a large rubber band, where they all sing, directed by Emanuel or Grace. She is becoming fast the 'pet' of the community.