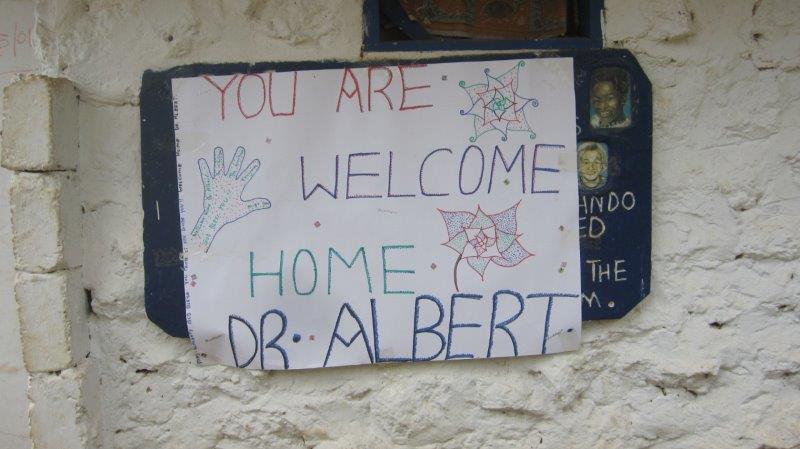 Because of the stormy weather in the Netherlands (see AC/April last) and COVID-19 it has taken me a while before I could finally depart for Ghana and PCC on July 1st!

After two days of travelling, I was welcomed in PCC – Hand in Hand possibly even more enthusiastically than ever before, which was absolutely heart-warming. I was greeted by a "Welcome" placard at the gate and spontaneous and warm embraces by PCC residents and caregivers, which felt really great.

Because most of you are not able to travel into Ghana at the moment, however much you would like to, I will try and describe what struck my eye here.

Linda
Nearly all residents are looking great and there still is a lot of pleasure and laughter going on. A good sign!
I especially walked over to Linda, because she and a delegation of PCC and Outreach have recently gone back to her village for a day. We had organized a village meeting with the village's chiefs, Linda's relatives and many other local people. Our goal was to encourage them, if possible, to take on a different view on people with special needs. It became an emotional and successful gathering also because of a most gripping speech by Linda's father!

Summerhut upright again
The Summerhut, which collapsed under the weight of a fallen tree during the April gale, has been rebuilt in the meantime and ….. the fallen trees (i.e. two, standing close to each other) have been processed into charcoal, to be used in the kitchen!
In this way there is still coming something good from a misfortune. As the famous Johan Cruijff would have said: "For every disadvantage there is an advantage."!



Daycare Nkoranza
Daycare in Nkoranza, which opened its doors in January 2021, is a great success. Meanwhile about 15 to 20 children with special needs from Nkoranza are coming to this DC for 5 days a week. Both children and parents are very enthusiastic!
No wonder, it is a fabulous facility and there is a good atmosphere thanks to our Outreach team and our two expert caregivers, Gertrude and Vivian.

Sara ill
There are always one or two children under the weather in PCC. This time it is Sara. She has a large infection on her leg, which can be treated most easily….. if only she is willing to take her medicines…..!? Not an easy task. However, everybody is making an effort and fortunately her condition is improving.

Music
Each morning after the children have had breakfast wonderful Ghanaian music on drums is being made by a number of caregivers and a large group of children on our doorstep. It is a great pleasure to have one's breakfast and coffee in this way! Do not be jealous, because I am enjoying it for you too!

Application for admission
During the first days of my return to PCC there are almost without exception parents or others with a child with special needs coming to PCC to beg for admission. This time no different. Obviously, we cannot meet all these requests just like that. Like always we and other institutions with us will first have to do some research into their home situation, whether we can be of help there.

Finally
This is it for the time being, although there is much more to relate: PCC with all of its residents is a never-ending-story!
I am most happy that I am able to be here again and contribute to this place. I sincerely hope that you have enjoyed the stories and pictures of PCC.