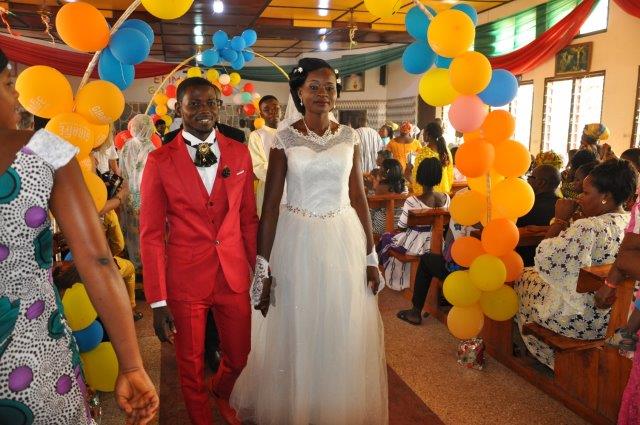 Finally the big day broke: the day that two of our caregivers, Michael and Gertrude, would solemnise their marital vows in church.
Both have worked in our Community for years (8 and 6 years respectively), so their happiness is also everybody else's happiness in PCC. Here we have watched their relationship slowly develop into something really beautiful.
It had become such a wonderful relationship that earlier in 2019 not only Michael and Gertrude but also both families wholeheartedly consented to their intended marriage. So about 6 months ago Michael and Gertrude were married in a Ghanaian customary way at Gertrude's parental home, after Michael had paid them and Gertrude's village-elders a (considerable!) dowry.

So they were married in a traditional way, but Gertrude and Michael were convinced that their marriage would only be complete after it had been solemnised in church.
This ceremony took place at the end of December, after 6 months of Sunday evenings of marriage counselling by the elders of the Roman Catholic parish of St. Theresa's Hospital. So you could say that Michael and Gertrude were thoroughly prepared for their matrimonial life!

On the 28th of December a long procession walked (or drove) from PCC to the hospital chapel. A large number of residents, of course also many caregivers and even various guests, filled the chapel and there we all witnessed a wonderful and appealing wedding service.
Michael and Gertrude were impeccably dressed and sparkling, we got carried away with the wonderful music and songs and the Roman Catholic priest was well able to explain why these two young people are such a good match.
Besides… the priest gave the whole congregation 5 important pieces of advice on the maintenance of a good relationship!



After that it was time for the marital vows and the actual solemnising of the marriage, the exchanging of the rings, followed by a tender kiss and a modest dance by the young bride and groom in front of an extremely enthusiastic church congregation! Love is in the air!

After the church collection we were invited to please the young couple with a financial gift. Ghanaian ways are different from European ways as people are invited to come forward in the order of the amount of money they are going to give, so first those who will give 50 Cedi, then those who will give 20 Cedi, and so on: 10, 5, 2, and 1 Cedi ….
Probably this is not in accordance with what the Bible teaches us, but here it is a most common thing.
The collected money was added up by a number of trusted confidants and the new couple was very happy with the result.

After church there was ample time to congratulate the married couple and take pictures with them. Many people made use of this opportunity and a lot of wonderful pictures were taken.
Everybody was able to witness a noticeably very happy couple that festive day.

Gertrude and Michael will remain living in PCC for the time being, in their own room and with the children of PCC for whom they have taken care of for years now. They will continue doing the work they are used to doing here and we will wait and see what the future will bring them and us.

We wish Michael and Gertrude much happiness, all the very best and above all God's blessing for their future and we hope that they will continue living Hand in Hand for a very long time!