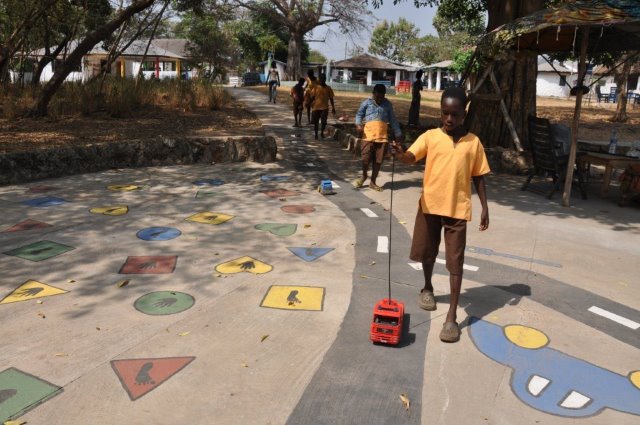 Friends are important to all of us
but they do not always live next-door, that's the way it is. Which makes good neighbours sometimes even more important to people than distant friends.
That is why Jeannette and I are very happy with the good neighbours near our home in Reeuwijk, who have become our close friends ánd PCC's in the mean time. By these friends we mean the members of the Protestant Emmaus congregation in Bodegraven, which is located only a few miles from our home.

In 2012 a large group of about 40 people of this congregation were travelling to another project in Ghana and they stayed in PCC for just one night and part of the next morning. This seems a very short period of time, at least from a distant point of view, but it was more than enough time for many members of Emmaus to subsequently commit themselves to PCC in a very enthusiastic manner.
Since 2012 this church has supported PCC substantially in various ways and also five larger and smaller groups of members of this congregation have visited PCC for a couple of weeks as Helping Guests since then.

Also in January 2017 we welcomed a group of eight people from Bodegraven twice. They stayed for two weeks as Helping Guests and both visits proved to be very successful again.
By the way, the pronunciation of the name "Bodegraven" (with the difficult Dutch sound of the letter G) always causes a great deal of hilarity in PCC.

Both groups visiting us in January last have worked very hard and enthusiastically. They were up at dawn (6AM) and managed to do a lot of e.g. paintwork (besides many other odd jobs). The first group took upon itself the wonderful project of painting the large and grey concrete space near the rock behind the swimming pool. This surface of about 300m2 has been turned into a magical, colourful and very challenging interactive playing and learning facility: a kind of "modern playground" filled with colour and all kinds of shapes.


At its opening we have baptized this wonderful space Jubilee Square, because this is the first special project during our Silver Jubilee year. It is a great pleasure to watch our children play with their toy cars there, to see them practice on the Alphabet centipede or play hopscotch on the squares with numbers or coloured shapes. Again another wonderful attraction for PCC!

The second group has changed PCC's Disco from a white (not so very much like a disco at all) space into a swinging and colourful Music Hall. On its inner and outer white walls many – familiar – musical instruments have been painted besides piano keys, musical notes and scales etc.. The children are now trying to play on the painted drums and bongos or to blow a little tune on the trumpet or saxophone. The rejuvenated Disco also adds to the PCC jubilee atmosphere!!
Also the playground has been under repair and freshly painted and Ameyaw, our new PCC welder, has worked hard together with our Guests.
Clearly PCC is looking tip-top again and very happy!

Except for all the paintwork both Bodegraven groups have also done much maintenance and reconstruction work. For example all doors in Hand in Hand are hanging vertical again, the store with medicines and bandages has been reorganised, some children's bikes have been repaired etc. In fact it is impossible to mention everything that has been done, but all has been very useful for PCC!

Obviously we are very fortunate with this good neighbour and thankful for the huge and continuous support of the Protestant Emmaus congregation in Bodegraven. Both groups have departed in the mean time and we in Nkoranza would like to wish them a safe journey home and many, many thanks.
See you next time, May God bless you!