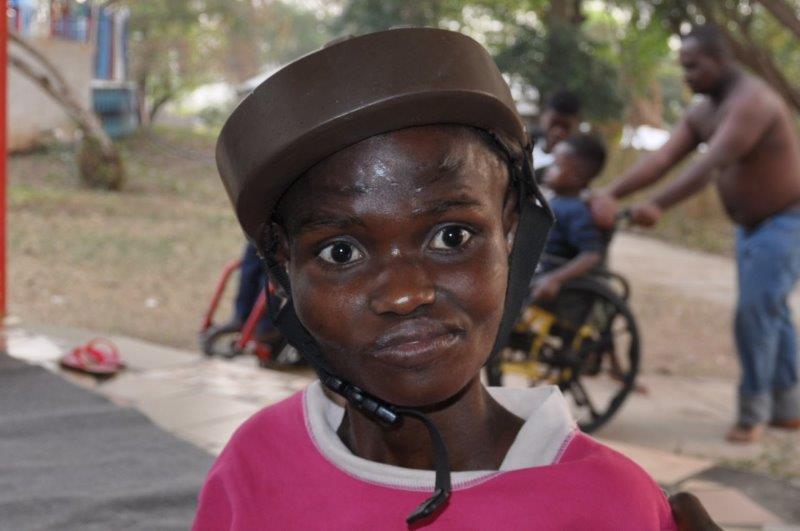 In Memoriam Theresa

After a short period of illness, but after a long period of always being fragile and vulnerable the very quiet and sweet Theresa passed away on Saturday 31st July.

Theresa was about 19 years old and lived for more than 13 years in PCC. We don't know so much about the first years of her life, but from what we know it was clear that it definitely was not a good time for her.

In PCC Theresa often showed a serene smile, but was not really able to be in real contact with other persons, she never spoke a word.
One of her strange habits was to beat rhythmically and rather firm with her head against a table or the floor. For that reason she often was wearing a helmet, to protect her against self-mutilation. Theresa also suffered from frequent epileptic fits and it was very difficult to set her up for medication.

During the first 10 years in PCC Theresa walked on and off on the compound, often with a caregiver, but after it became clear she broke a hip a few years ago she was sitting in a wheelchair most of the time. It didn't seem to matter much for her.
She was open to and clearly happy with the shantala massages given to her by the caregivers almost daily during the past years, it made her even more quiet than she already was.



We tried our best in PCC, but it was difficult to make Theresa gaining weight, she remained always lean and therefore looked vulnerable and delicate. Not eating was maybe the only way for Theresa to make clear if she felt all right or not.
On the other hand she could be remarkably fast when seeing a delicious boiled egg on the plate of somebody else, she would strike relentlessly.

The posture of Theresa was not like a person of 19, her fragile and skinny stature matched very well with the soft and vulnerable look in her eyes. It was exactly her vulnerability that made her to be a very beloved person by almost everyone in PCC as well as by many guests.

The vulnerable life of Theresa has now come to an end, the Lord has called her to eternity. She may now forever rest in the arms of her Creator.

We are grateful that Theresa could stay with us for such a long time, that we were able to take good care of her and could give her what she had missed before: love for one another.

We hope and believe she may now rest in His eternal peace and are convinced she has now passed the vulnerability.

Goodbye dear Theresa, rest in peace.