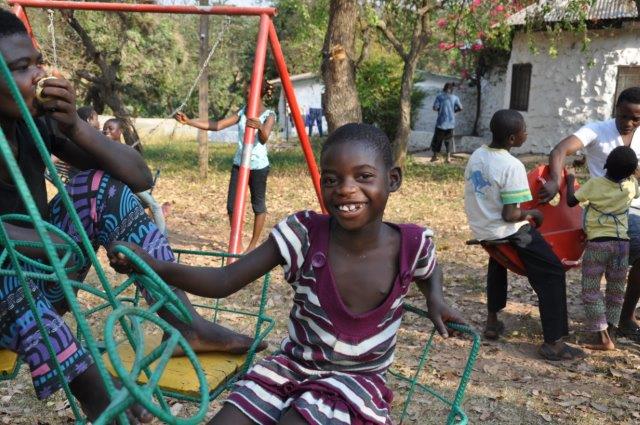 In May 2014 a girl of about 6 to 7 years old was found wandering the roads
near Kade and Akwatia in the Eastern Region. The man who had found her brought her to the police station. Because both further research and a FM radio appeal were to no avail, Social Welfare brought this little girl, who was deaf and dumb according to the police, to an orphanage in Akwatia shortly afterwards. Because she had been found on a Friday she was called Afia.

The orphanage in Akwatia goes by the beautiful name of My Shepherd Orphanage, but we have understood that Afia has not been treated very "shepherdly" over there. We were informed that the caretakers were not very good at dealing with this intellectually disabled girl who cannot or barely speak, who is (still) not potty-trained, who hits herself now and then and who regularly drops to the ground. The only procedure one could think of was to hit her often and hard. Besides, Afia was victimized by the other children of the orphanage: she was bullied, pushed around and hit. Unfortunately, this is the ill fate of many disabled children in homes, or actually, in the whole of Ghana.
We were already asked to kindly take her up in our Community in July 2014 by somebody who was much concerned about Afia's difficult circumstances.

We often get these requests, however, it is impossible for us to accept all intellectually disabled children. If we think that a child will be able to develop much better in PCC than in its current home and that it will fit in our Community well, we will invite the people who are taking care of the child to visit PCC, to give us the opportunity to observe it for a few days.

Much to our surprise in October 2014 a judge already gave permission to transfer Afia from Akwatia to Hand in Hand. However, at that moment we still hadn't seen her (!), so we didn't want to go any further than to "first observe and to decide later whether or not to accept her as a new resident". However, the people from Akwantia only wanted to come to Nkoranza if we were willing to guarantee to take Afia into our care. This dead lock lasted till January, but eventually a religious brother and a volunteer of the orphanage came to PCC and we were able to observe Afia well.

It was soon clear and no hard decision: Afia would fit in here very well.
We were looking at a sweet little girl, who had probably only slightly learnt to fend off all blows she had received, but who still appeared to react very positively to a kind and caring approach. She was constantly smiling and she immediately accepted the generous and motherly care of our caregiver Matilda.
It is great to watch her enjoy an hour of splashing around in the pool, one big party! She thinks it is great to play with all kinds of educational material together with only a small number of children. Within a few days it seemed as if she has been living here for months, she makes good use of the potty and she appears to be able to indicate that she has to go in time! She walks around hand in hand with everybody and she enjoys the food, which is offered to her: a whole new world is opening up to her!

On the first evening we have introduced her to all residents of the Community and we gave her a new and beautiful name: Rebecca!
"Welcome, Rebecca!", we called in one voice and we lifted her up literally and figuratively speaking.
Welcome to PCC, may it be a safe and loving new home to you from now on. Akwaaba!