The new centre of PCC is ready!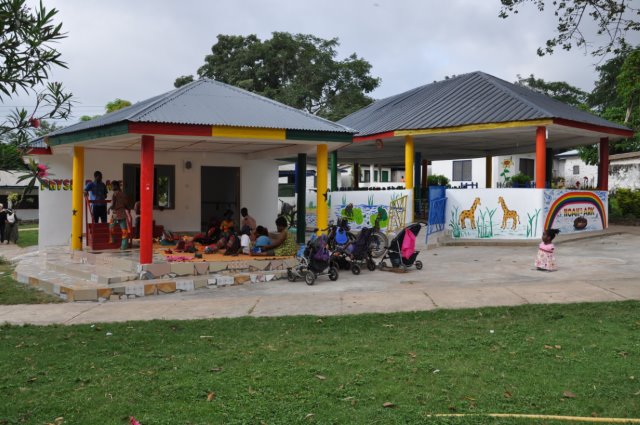 We are very happy and proud in PCC, because several facilities in the new centre of PCC
 were handed over to us this year. Now all buildings are completely finished and they look really magnificent! All the more reason to mark the occasion of the official opening on the 31st of October with a fabulous party. And because we in PCC never miss out on moments of great rejoicing we celebrated the opening with a blast. Because there is no doubt about it: these two new buildings are great assets to PCC!

After the opening of the Royal Community Hall last July a lot of hard work has been done to first build the new centre for interactive educational and recreational games, named NOAH'S ARK, and later the special room for physiotherapy.
Noah's Ark has unofficially been in use since August, but the new tables and chairs have been delivered only recently and, more importantly, the building is completely finished now thanks to a number of lovely murals that correspond with the name of the building. On the outer walls you can see various paintings of animals, which went inside the Ark in pairs together with Noah.
The pillars and the ceiling are completely painted in style in the colours of the rainbow, because the rainbow is the symbol of God's covenant with man after
the flood and we believe that all our children are also part of what God covenanted with us. In any case, the children are happily sitting and playing in this very beautiful and functional building. Have a close look at the pictures and enjoy the beauty of Noah's Ark.

In between Noah's Ark and the Royal Community Hall there is the last extension of the new centre, which was finished just this week: the wonderful building for physiotherapy. It looks that great that we have baptized it during the official opening as PHYSIO PALACE; we could not do with a lesser name!
The building consists of a spacious room, which can be used for various physiotherapeutic exercises and a multifunctional porch also meant for physiotherapeutic help.

This building has been painted wonderfully and colourfully too and because this Physio Palace is Ghanaian the national colours of Ghana prevail.
Members of the Protestant Congregation of Bodegraven in Holland have dedicated themselves to the painting of both Noah's Ark and Physio Palace, a number of volunteers worked here in August as well as in October to achieve this fabulous result. One that may be noticed!
And of course we mention the name of Samuel Baffo here, our Project director, because under his skilled and dedicated leadership all new buildings in the centre of PCC have been realised energetically and skilfully this year. As we say in Ghana: "He has done well!". Therefore we crowned him "Chief Constructor"!

We would like to thank all of you who – in one way or another – have contributed to the realisation of the new centre of PCC (or made this possible). It is always great to experience to what extent many people sympathize with the Hand in Hand Community and all of its residents and prove to be prepared to support us over and over again where necessary! Fantastic!

So, on the 31st of October we threw a great, very great party. It was to be seen and felt that day that we are all very happy and proud of the new centre of PCC. Ribbons were devotedly cut that day to the cheers of the crowd and the bright colours of the balloons matched these colourful buildings well. Everybody was walking around proudly and was scrutinizing all details of the new buildings. After that we enjoyed a great party that was most fitting to the tradition of special celebrations in PCC.
Royal Community Hall, Noah's Ark and Physio Palace are completely ready for daily use now. What a luxury, what great assets to PCC!