Tell me, how are they doing??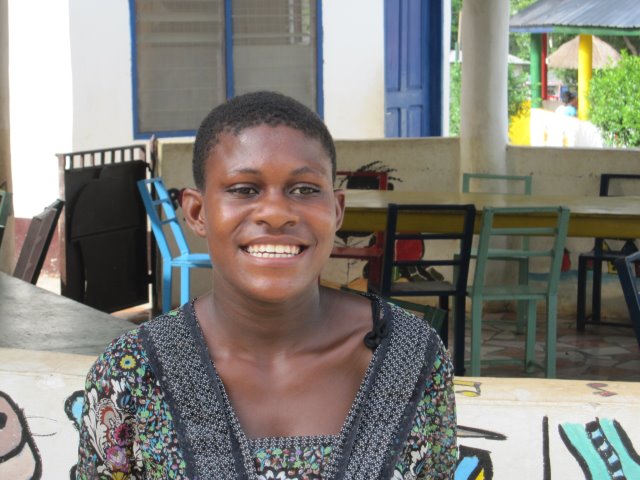 We are often asked for information about our children by sponsors
or people who have visited us here as a volunteer or guest, all people who would like to know how their "favourite" resident(s) of PCC is (are) doing.
I sometimes write a more elaborate story about one of our children and his or her personal background in Albert's Corner, but I can well imagine that there are people who would like to know a little bit more about several children, preferably accompanied by the latest picture.
That is why from now on the column "How are they doing …?" will appear on a regular basis in the AC, it will be filled with brief items about different children of PCC plus some recent pictures.
Would you also like to know more about the personal development of one of our residents? Please send me your request by mail and who knows you will read the answer to your questions in this column soon!

As we have already received some questions recently, we will be briefing you about four of our residents this time, namely:

Tettey
Since Tettey's arrival at PCC in 2011 he has made some major progress. He was a quick learner at walking as well as at eating well and playing with other children. Nowadays he is attending Shalom Special School and our Summer School and he is doing the best he can although he is not a very easy pupil. At PCC parties he nearly always fulfils a very special and important role, let's say the Tettey show. He has already played the role of a serene Jesus in the PCC Christmas play twice.
In short, Tettey is doing great in PCC, although he has his lesser moments, for example when he doesn't get what he wants. Fortunately, this is far outweighed by his jocular behaviour and his unique mimicry, which is much to be enjoyed. 
M'Afia
Our Community's Prima Donna is developing into a very sweet, caring and social young woman. Once she was a "tough" young street girl in Accra, since she came to Hand in Hand she has fortunately changed for the better.
Her epilepsy is well under control at the moment and she is in good health. She most heartily greets and embraces each visitor to PCC on his or her arrival, she generously shares her mangoes with the other children, likes making a joke and telling stories which aren't always particularly clear to me, but sound very interesting and poignant …! So, a most happy and positive resident of PCC.
James
James is a wonderful small, lively and vibrant kid. His best friend is Joel at the moment, you can often see them strolling around with their walkers, practicing (or is it playing?) in the Physio Palace and enjoying all the other good stuff here. James likes going to Summer School and he is doing very well, according to the Madam he is rather bright! However, physically he is not that strong (yet), so when he is talking it sounds more like a loud whisper than clear speech, but … he has a mind of his own and he is very successful at showing this! He is a child to be loved and many do so!
Miriam
And what about Miriam, our abandoned child of 9 months ago? Well, luckily we can be very positive about her too, because also she is developing flourishingly. She hasn't been malnourished for a long time now, on the contrary, she is eating well and is looked after by Gloria in a loving manner. She is also stimulating Miriam tremendously to make further efforts in walking with a walker, in playing in the pool and in learning how to speak.
Miriam is very cuddlesome and is enjoying all the attention she is getting. She seems to be very satisfied with her new home in PCC!
To be continued!
Requests for topical stories and pictures of other children please send a message to:
[email protected]