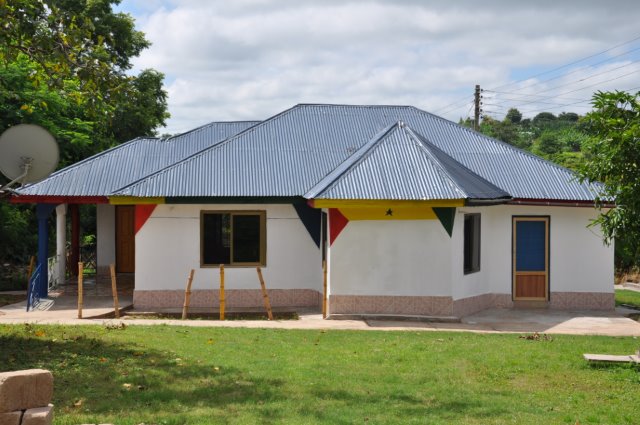 The largest constructional change in PCC that is planned for this year
is a reconstruction and extension of the physiotherapy room, the House of Games and the TV room. Three functional rooms that are linked to each other which is the reason why we have coupled the renovation and innovation of these three buildings.
Recently the first step – and certainly not the least important one in this process, has been taken. The old TV room had become (far) too small in the course of the years due to an ever-increasing number of children in PCC. The children almost sat and lay on top of each other. The impetuous ones (and we do have a few …..) were repeatedly standing on the arms or legs of other children. Especially the more vulnerable children like Lisa, Theresa, Tettey, James and Joel and others were victims of this.

So, high time for an improvement and after thoroughly thinking the plan over we decided to build a completely new and more spacious TV room next to the old building. Our excellent master builder Baffo (in the mean time he has certainly deserved this title because of his achievements in this particular field!) has taken this task upon him these last few months and, we cannot but say and without hesitation, he was extremely successful at it! Just before Ghana's first match during the World Cup the new building was opened. It has become an oasis of calm in comparison with the former building. The new building has a great floor, which can be cleaned easily and well (which comes in handy because of the various not entirely potty-trained children) and there also is a special corner where the vulnerable children can sit and lie undisturbed. Besides the whole building is much more spacious, so the children are able to walk up and down easily.

The building can also be used for other activities for example our church services when it is raining cats and dogs or for big meetings. On top of that the building has become much too great to be just called the TV room. So we have given it in our opinion a much more suitable name and baptized it the Royal Community Hall.

A royal name for a royal building, have a look at the pictures yourselves. What a splendid asset!

It has always been wonderful having been able to watch for instance soccer in the old TV room and to enjoy and cheer for a Ghanaian or Dutch goal. Well, it is even better in the Royal Community Hall now. The cheering is much the same but now we can also dance without hurting the smaller children or jump about and throw ourselves into each other's arm because we're so happy. At this very moment as I'm writing this column the match Costa Rica –The Netherlands has just finished and it has resulted in a splendid party in the Royal Community Hall, much orange to been seen with children and caregivers and a big party after the nerve wrecking match and the series of penalties afterwards. The whole of Hand in Hand empathizes with Holland, and "Holland, Holland" has become a really popular yell here in PCC in the mean time! Finals here we come …..!?!

We would like to thank all people who and organisations which have contributed to the realisation of this splendid Royal Community Hall for the support we have again received. We are most happy with and very proud of our ever-growing circle of supporters and donors, it is a great blessing to have such good friends. Thanks, thanks and THANKS again!