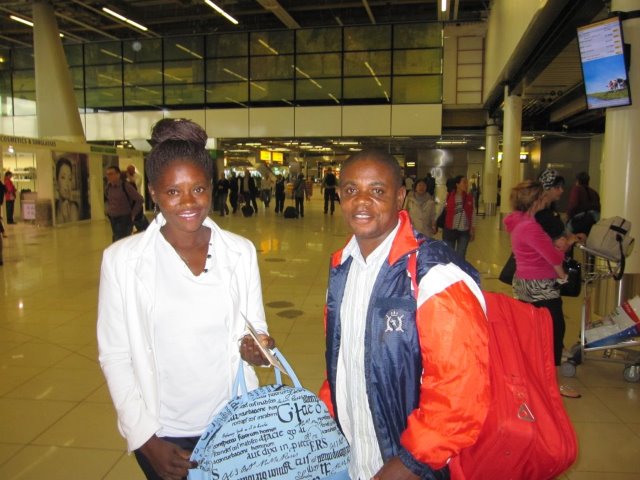 This time an Albert's Corner with BREAKING NEWS
and other interesting news items for the avid readers of this column.
Breaking News 1: Baffo in the Netherlands and a Baffo afternoon on the 30th of May in Reeuwijk
Rumour had it and it is absolutely true: since May 7 our project director Samuel Baffo has been in the Netherlands and he will be staying until the 6
th
of June. Just like Joe Emma in 2013 the board of the Dutch foundation that supports Hand in Hand, has invited him. He is here to meet and discuss about the long-term policy and sound management of PCC but also to maintain and strengthen the personal bonds between the members of the board in Ghana and the Netherlands.
Besides, Baffo will visit various institutions in the Netherlands, where good and modern care for intellectually handicapped people is offered, which will be very interesting and tremendously instructive for him.
Last but not least: there will be a big
Baffo-afternoon
in Reeuwijk, Holland on
Saturday the 30th of May
. A perfect occasion for all who feel connected with PCC to welcome Baffo in the Netherlands and to meet and greet Baffo and each other in a relaxed manner. Many former volunteers and frequent guests have already signed in. Would you also like to come? Sign in via our email address:
handinhandcommunity@gmail.com
Breaking News 2: Esther Azapa
More news about extraordinary travelling! Also Esther Azapa, who has been a caregiver in PCC for 6 years, is staying in Europe for 1 month, she is in Denmark. Her boyfriend Lasse and his relatives have invited her over there. Even on the day of her departure she wasn't sure to receive her visa for Denmark, fortunately she did and just in time! Esther is most relieved and very happy!
NB: Esther and Lasse will also come to Reeuwijk on Baffo day on 30
th May.
Esther is well known to many former volunteers and she will surely like to meet all of you!
Hostess Vida leaves PCC, Elizabeth 2 takes over
After having worked in PCC for 5 years our hostess and caregiver Vida is leaving PCC, to live and work somewhere else. Many guests of Hand in Hand who have visited us in recent years know her well and also on behalf of them we have thanked Vida extensively for all the work she has done for PCC and its children. Vida, good luck to you, fare thee well!
Elizabeth Gagla will take over the work Vida has been doing in the restaurant, so from now on PCC's hostesses are Elizabeth 1 and Elizabeth 2!

Opening Mabel's house
The completely renovated house of caregivers Mabel and Gertrude's and 5 PCC children was opened at the end of April. PCC is becoming still more wonderful, also this house is a great asset to our Community, thanks to our building supervisor Baffo and of course our supporters!

Room for new volunteers
Would you like to come to PCC for a period of at least 3 months and take part in the care of our children? That is possible, luckily enough there is room during and after the autumn of 2015. You can find useful information about a.o. how to apply on our website. So who knows we will meet in Ghana?

Ouch for Ayuba
Unfortunately sometimes things do go wrong in PCC. Not long ago Ayuba's legs were covered with boiling porridge when the pot was lifted from the fire. As a result he got a lot of blisters and pain, but fortunately it seems he is recovering rapidly and well! But it was rally "Ough" for Ayuba.

Mango season
Not to forget, it is mango season now and much to the joy of all children! Each day 1 or more mangoes, very savoury and healthy, or not Kwame Addai?