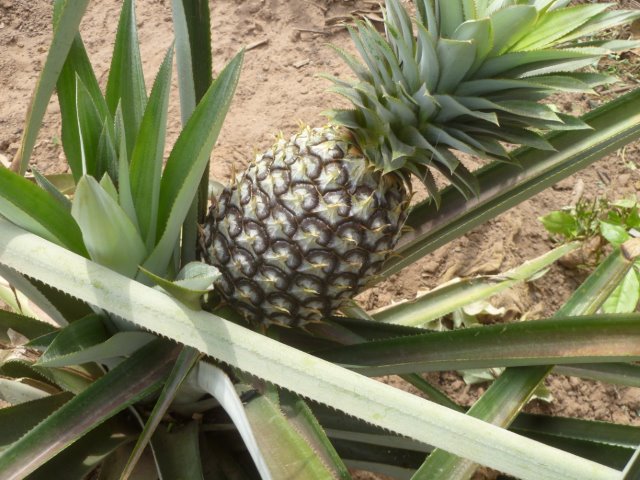 Of course, PCC is and will remain a healthcare community to our residents
in the first place, but PCC is very much more besides. It is for instance a school for "home-made" special needs education, a sheltered workshop, a unique resort consisting of 14 guesthouses and on top of that a shop, a restaurant and ….. now PCC appears to be fertile as well!!

PCC … fertile? Are you saying that perhaps … uh … somebody in PCC is accidentally … uh … with child … just a little???
Not to worry, because as far as we know there is nobody pregnant over here, which is not entirely true because one of our cleaners, Rebecca, is certainly pregnant, and even close to the end of her pregnancy, she expects to give birth to her second child within a few weeks.

But this is not the fertility I am hinting at, I am suggesting that PCC is a place of fertile soil! Not only figuratively speaking, but also literally: very fertile indeed! In the second part of last year PCC has – led by our excellent Baffo – spent much time, energy and mainly very much water on the development of a "farm" of our own, a large field used for the growing of crops which are very important to PCC like yam, plantain, cocoyam, cassava, tomatoes, okra, pineapple and so forth. Food PCC needs in very large amounts for more than 130 mouths, which have to be fed three times a day.
First, a large part of the terrain of overgrown and uncontrolled bush behind the PCC compound had to be thoroughly pruned. Then a simple but adequate irrigation system was put in in this cultivated field, using the "old" water from the swimming pool which is very smart and practicable!
Every few days the water of the pool is being exchanged for hygienic reasons. Now the water is not just flowing away but is led through a long pipeline to a large water tank near the farm, making sure that also during the dry season all crops can grow and flourish. During the dry season there is not a large amount of vegetables for sale on the market and if there is it is quite expensive. However, because of our own farm we will be able to cut back on costs in the future, which is of course good for PCC.
In the past also orange trees were planted and that is why we are able to offer the children home-grown fruit nowadays!

It is truly a pleasure to watch and see the sprinklers abundantly spraying water on the fields each morning and to discover the fresh green colour of the sprouting yams and tomatoes. Our Baffo has made the success of the farm his personal project: each day he and a few assistants make sure that there is sufficient irrigation, that the weeding is being done and that new crops are planted. Besides, he has built a strong fence to keep our donkeys and goats from eating our food, so everything will end up on the plates of our children. The older boys of PCC are also working on the farm doing all kinds of chores, in this way the new farm has become a real Community activity.

We are very happy with this new development in our compound and that is why we say proudly and without hesitation: PCC is very fertile!