PCC celebrates with young people from Accra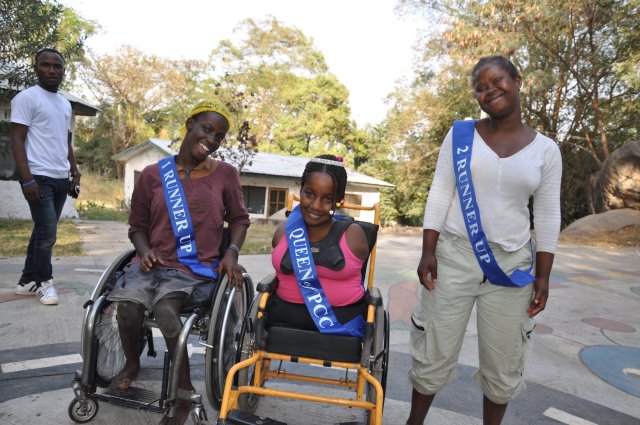 The most important reason for being of PCC is the fact that there is a lot of superstition and prejudice
towards children with an intellectual disability in the Ghanaian society. For that reason many children with such a disability are often maltreated by their families and social environment or even abandoned.
Finally some of these children will end up in PCC via various ways, but it can never be all children with disabilities from the whole of Ghana as this group of children simply is far too many.

We do understand that long existing and culturally and spiritually determined values in the Ghanaian society will not just change overnight, it will only be gradually and take more time.

Happily enough positive signs of change in Ghana can be seen. In this regard I like to tell you about a group of young people from Accra who are committed for man "inclusive society", a society where disabled people belong to and participate!

The group is called Sronko Diaries. We have been in touch with them since last year and they also visited PCC . So nice to meet and talk to such enthusiastic and compassionate young people.

This Sronko group asked us last year if we could allow them to organise a party for all our children and caregivers after the Silver Jubilee and they did so in January. They came to PCC with about 10 persons in a minibus filled with e.g. delicious snacks and various presents.
First of all they listened to the stories of some of our children, e.g. Sadat, Ayuba, Kofi Asare, Emmanuella and Adwoa. and later they made some short films with them for promotion purposes of the theme on social media.
And in the afternoon there was a big party at the Jubilee Square.

Some of the special highlights were some dancing events. One of the members of Sronko was a very gifted dancer and his beautiful dances inspired some of our children to join him in dancing, which led to some nice spontaneous dancing and very special moments.
After that there was also a dancing competition where some of our children and young adults participated, e.g. Miriam, Adwoa, Mabel, M'Afia and Emmanuella.

The Sronko jury had its favourites…., but at the end no one had a problem with Emmanuella being the winner of the dance competition. Adwoa did very well and became 2nd and with honour Mabel was the 3rd.

The snacks Sronko brought from Accra were very delicious and well appreciated by all. Apart from that Sronko also donated a lot of gifts in kind to PCC (e.g. clothing , a walker and some crutches) and even Cedi 500 for our caregivers, as appreciation for a good job done, knowing it's not always easy.
And the icing on the cake was a ….. wonderful homemade cake!

For us it was not only a nice party but also very stimulating to see and experience how these young people from Accra are committed to create an atmosphere in Ghana with sufficient room for intellectually or physically disabled people.
For that they like to cooperate with PCC as an inspiring sign of hope to all disabled people in Ghana.

It's really wonderful that also in this way PCC can contribute to the desired changes in the Ghanaian society in the way of dealing with disabled people.