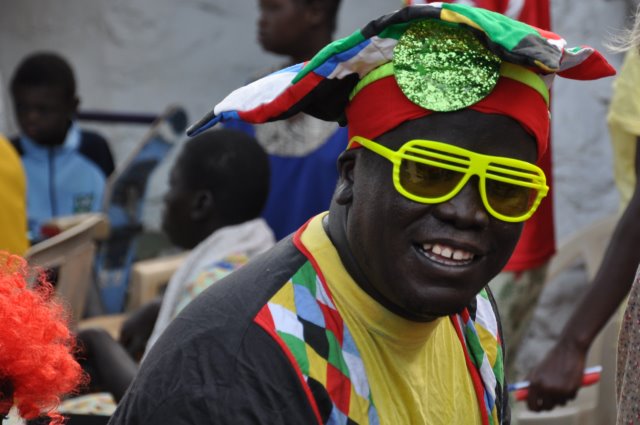 Party's in PCC   Often you can read in my columns something like: " … and finally we enjoyed a wonderful PCC party that evening".
For people who have taken part in the festivities of our Community, the picture will be crystal clear. However, there are very many readers who haven't been able (yet) to visit PCC and it is for them I would like to write a column about what happens when we are throwing a PCC party.   First, there is a lot of anticipatory pleasure. When the children have heard that there will be a party in a few days time, the excitement will grow each day. Many children will bring their hand to their mouth regularly to indicate that a party should be accompanied with a bottle of soda!   Finally the day of the party arrives, try and imagine this: all children and caregivers are sitting on chairs in a circle in the centre of the Community, there where the children and youth have their meals. On the side there is the Kofi Asare music group and Kofi Asare together with Joe Emma, several residents and a few caregivers are exuberantly playing the drums. Rhythmical music is guaranteed and within a few minutes everybody will move along enthusiastically at the start of such a party. Music and dancing are the usual and unmistakable ingredients of a good party in Ghana, but Ghanaian music and dancing only does not make a PCC party, a party in our Community is so much more than that.   The big difference with all other parties in Ghana is the unique contributions that are given to a PCC party by our children. These are all completely different, depending on the possibilities – and sometimes the mood – of a resident or the ongoing activities in the Community. Many times as starter there is Coco the Clown (Kofi Asare) with one of his assistants and then often Paa Yaw who leads all in the singing of the song "My head, my shoulders … ".
Then again Kofi Asare comes forward with his special poem about a lion and a cat. More short poems recited by e.g. Bridget and Emmanuella are alternated with lively musical presentations or a special dance. Sometimes a group of children will step forward to show what they have learnt at Summer School or in the Sign language group.   Look at Adwoa who is coming out of her wheelchair, she is bold enough to show the large group of people that she is able to dance really well, sitting on her knees. Also an autistic boy like Koo Ema is coming forward when he is called and he will usually dance in his own special way together with Pakor. And believe it or not, he will actually walk back to his chair with a proud smile on his face.   Everybody is also enjoying the little boys Gabriel, James and Joel when they are performing their dance, what happiness and what rhythm! Some older girls, like Mabel, Philomena and M'Afia have their own dance, they like to copy the titillating way some female caregivers (or ladies on TV …) have danced before. But, the most wonderful surprise is the way Amma Ghana – who is usually rather modest – dances: she is able to amaze everybody with her inimitable dance moves and high voice.   The very positive way in which all other children react to the performances of their fellow residents makes it even better and more impressive. Everybody likes to join in the fun, no one is afraid of being laughed at, on the contrary they would like to show their tricks and skills to the other residents and guests preferably all at the same time. A PCC party is unique, each and every time and despite of its simplicity all who have experienced it are much moved by the wonderful and happy performances of the residents of Hand in Hand, it is indeed the true art of life! You are cordially invited to come and enjoy, see you then!