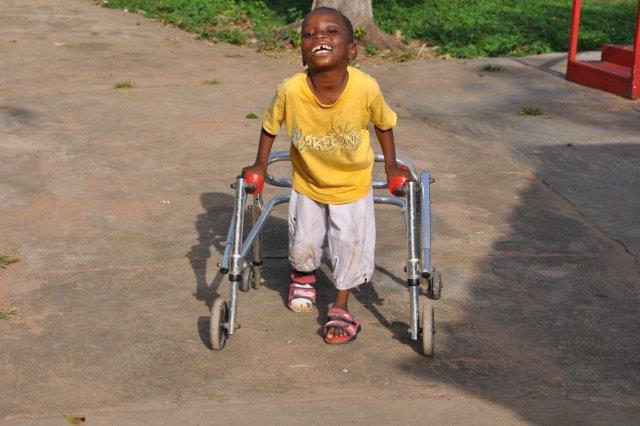 Jeannette and I have been back in PCC since last week after an absence of 6 weeks.  
On our return we always notice some children more than others because of the change they have gone though during those 6 weeks.
But also other matters are worth mentioning.
PCC is still "running" smoothly
I already wrote this last year and it is still true today. Also James and Joel are now walking behind their walkers across the compound the whole day. They do this proudly and independently, overcoming obstacles like doorsteps effortlessly in the mean time.
Joel has found out that going downhill is much easier and really much more fun sitting on the walker, then he is having a great time!
Miriam
Our new resident Miriam is shooting up because of the extra food she is getting now. She has gained weight during the last 10 weeks and is looking much healthier than when we found her as an abandoned child. We haven't heard anything from the police or Social Welfare yet ….., so it seems she will be staying here permanently.
She is able to sit upright now and she also eats independently now and then. She even dares to lie on her belly in the pool. Everybody likes cuddling her and she is much pleased by it, she is obviously enjoying her new life in PCC.
HOPE and Charles Mensah
In one of my last columns I wrote about the HOPE centre of the Ghanaian physiotherapist Charles Mensah. Last week I heard that he was involved in a serious collision of 2 buses, no fewer than 21 people were killed! Charles got off really well and he is recovering from some light injuries at home.
Jeannette and I drove past the scene of the accident on our way to Nkoranza and we took a picture of both buses.
Akosua
Akosua from the sheltered workshop is missing her big brother Cletus really badly, he hasn't been visiting her for a while. It shows because she is eating less than is good for her and that is why we have started a programme full of extra attention and positive stimulation to make her eat all meals. And….. it seems to be working!
Donkey with young
Dusty the donkey, she was a present to us earlier this year, is heavily pregnant in the mean time and it won't belong before PCC will rejoice in the birth of a little donkey! We are looking forward to it and we will keep you posted.
Gabriel the imitator
Young Gabriel has found a new hobby in imitating the walk and the behaviour of some other residents. It is really awesome to see this 3-year-old toddler observe and imitate others really well and by doing so entertaining everybody else at the same time.
New room for physiotherapy
We must confess that we are very impatient: it is but a few weeks to go and then the new room for physiotherapy will be ready for use. By what we are able to see right now it looks already really promising, it will be another wonderful and functional building.
On its completion the planned renovation of an important part of the centre of PCC will be finished for this year. Curious about what it looks like? Come and see for yourself soon (or have a look at the pictures …..)!
PCC in general
Everything is working out wonderfully here, the atmosphere is good and the children are looking healthy and happy. It is a marvellous sight when they are all sitting together with the caregivers in Noah's Ark, certainly when it is raining and the flood is flowing past them. And sometimes we can even see a pigeon flying (though without an olive twig)!
There is Peace in the Peace of Christ Community.