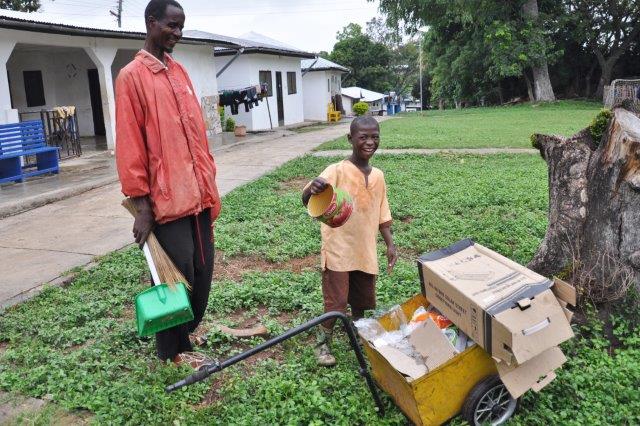 It's time again for a column full of interesting and real life news facts from PCC
and its residents.
We hope you will enjoy reading this column and looking at the corresponding pictures.

Result intensification physio
Since Inge Maters had her input in physiotherapy last summer many children have much improved, which is of course extremely gratifying news. A good example is Kwame Addai who has pleasure in practicing hard every day and who likes showing the things he has learnt in the mean time: have a look at the corresponding picture in which he is making high jumps during a party. This is making him very proud and we are very proud of him!

Hostesses
Important message for our guests: there has been a change in hostesses in our restaurant again. Elizabeth Gagla, who had been working there since last May, decided to enrol in school and left PCC as from the end of October.
Her successor is Dorithy, a new caregiver, who will also welcome and take care of our guests, together with our experienced staff member Amma Elizabeth.
So you are and will remain most welcome as a guest of PCC!

Solar nightlights
A continuous supply of electricity is not something that is self-evident in Ghana. That is why we are very fortunate that since G8 visited us, our compound is lit by a series of lights powered by solar energy. These lights shine in various convenient places, e.g. near the toilets.

Old and new generator
We have been able to use our standby generator when we were struck by a power failure until recently. Unfortunately, the old generator doesn't work anymore. Not surprisingly, because it was nearly 50 years(!) old. We hope that we will be able to purchase a new generator next year, which will guarantee a yearlong, reliable and consistent electrical supply even when the main power system is failing us.
Everybody knows how important it is that the Light can shine on in the darkness!

New teachers PCC Summer School
Both caregivers, Gloria and Vida II, who taught our children at Summer School on a daily basis, have left shortly after each other for their further education. Luckily we were able to employ Rita and Matilda and Jeannette has trained them for their new task.
Summer School still remains a great success. All children like attending our school and learn a lot there, each at his or her level.

House of Silence
And because Rita has worked in the House of Silence up till now, two different caregivers, Mary and Willy, have replaced her. They possess the inner peace that is needed to support those residents who visit the House of Silence daily.

Mabel Caregiver of the Month for the third time
We regularly nominate an exceptionally good caregiver as Caregiver of the Month.
Mabel is the very first caregiver who has received this honourable title for the third(!) time! She deserves being put in the spotlight here, too! Wherever she is working, she is absolutely wonderful at it: a natural talent!

Edmond is a great help to Abraham
One of our young residents, Edmond, has found a new vocation a few months ago. He is very eager to help Abraham keeping the PCC premises as clean as possible. Early in the morning he puts on his boots and walks around pulling his custom-made cart to collect all litter that is scattered about with a big smile on his face.
I have even seen him pull thrash out of the bin to fill his little cart to the lid …..
Homage to Edmond!