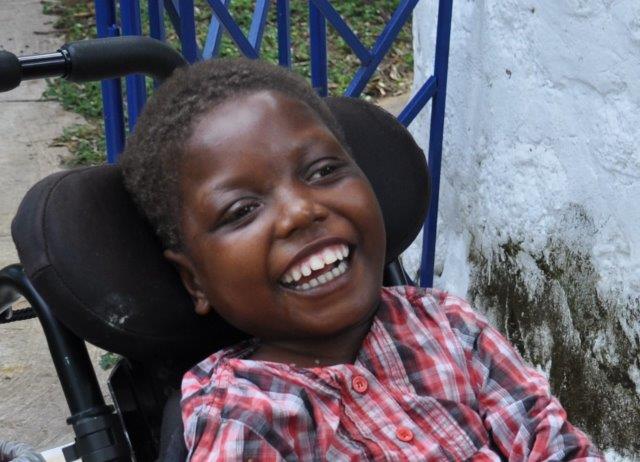 This time an Alberts Corner with information about some noteworthy and recent events
in PCC life.

In Memoriam Lisa
Unfortunately our first message is a very sad one, about the death of our Lisa last 10th April.
Lisa lived in our Community since 2004 after being transferred from Kumasi. She was born around the year 2000 and most likely severely disabled since then. The disabilities seriously hampered her during her whole life.
Lisa couldn't walk, could not move her legs at all and hardly her arms and couldn't talk either. In fact she was only able to communicate about her feelings with others by means of her eyes, her smile or through crying.
The more special it was that she often showed the most beautiful smile of the world to caregivers and others. With her smile she was able to prepossess many in her favour.
Also eating wasn't easy for Lisa and actually it is a miracle she has been with us for almost 14 years in PCC, enjoying all care and positive attention given to her.

Rather unexpected a short period of illness proved fatal for her. We feel sad but she has now got eternal peace after a difficult life with severe disabilities.
The day after her death all residents and caregivers could bid farewell to Lisa in a befitting way before she was buried at the Nkoranza cemetery.
May our dear Lisa now rest in perfect and eternal peace in the arms of her heavenly Father.

Stephen and Moses had surgery again
Stephen and Moses had orthopedic surgery again in November 2017 after earlier operations in 2016 because the desired outcome was not yet completely reached by then.
For Stephen it was important that he would be able to get his knees fully straight. All joints of his lower limbs (including his hips and ankles) are affected by a congenital, persistent disease and therefore all joints do need permanent attention, especially during the growth period of his adolescence.



Yet we are very happy as the operations on both knees seem to be successful! He is now able to move on in life and to school with straight knees, though he still needs his crutches because of the position of his hips.

For Moses this time the operation was not that big. Last year he needed major surgery for his pes equinus but this time he only had a correction of his Achilles' tendon to allow him to walk even better.

Also in his case the operation was successful thanks to the surgical team in Duayaw Nkwanta Hospital, including Dr. Rompa.


Yaw Balloon also operated
For years Yaw Balloon suffered from a severe tumor of scar tissue on his back, officially it is called keloid. In general operations are not advisable because the tumor very often will grow again after the operation.
Bu in case of Yaw Balloon he really was suffering from the tumor and he often had wounds around the tumor, so the doctor decided to remove the tumor.
At the moment the wound is OK and we really hope it will remain like that.

The circus is coming!
Yes, no mistake: in about one month from now a circus will come to PCC, we are already looking forward.
Thanks to a PCC supporter from Accra a team of circus Hannes & Co from Holland will first travel to Accra and then to PCC, between 25-27 May.
The team has a lot of experience with circus activities for and with disabled children, so our expectations are high!
If you happen to be around Nkoranza during these days you are cordially invited. Hear ye, hear ye, hear ye!