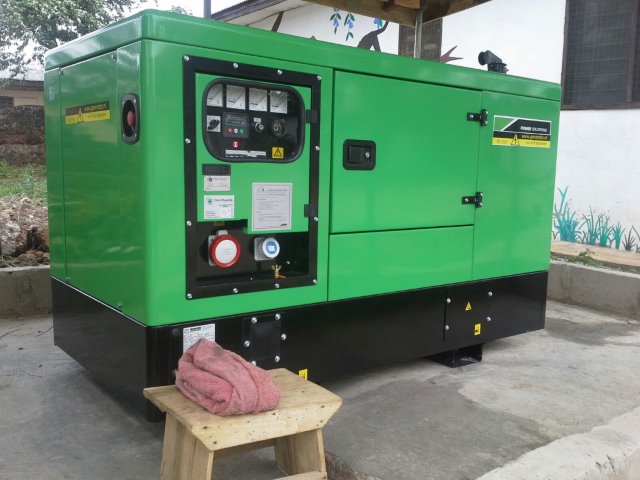 Hurray, there is Light in the Darkness again in PCC!

Last year our old generator broke down after a yearlong and loyal service. As a result we were not able to generate electricity in PCC when the main power net would fail us … again. It is a fact that Ghanaians are much better at dealing with a power failure than Europeans, but it really is a great nuisance when there is no electricity in PCC. Then e.g. the water pumps, washing machines, refrigerators, freezers, sewing machines and the television in the Royal Community Hall won't work, causing several practical problems and much inconveniences in the Community.
Fortunately, we had received enough financial support from our Dutch support foundation and some donors in the meantime to be able to buy a new generator. Yet, our problems were still not over. A lot of questions rose: how strong should it be, how will we be able to transport it to Ghana and into PCC, how do we install it properly and keep it adequately maintained, will there be good maintenance records and enough spare parts and so forth, and so forth.

We have considered these questions and their answers carefully and that is why PCC was kept in the darkness quite a few times for more than 6 months, but …… these times are over!
Thanks to the great help of especially Paul Lamberts the full process of choosing a generator, its purchase, transport and import into Ghana, customs clearance in the harbour of Tema and transport to Nkoranza and, finally, the set up in PCC ran smoothly.


So it took some time and cost a lot of money, but there it is! PCC is the proud owner of a sturdy generator assembled in Spain, transported to the Netherlands and then put on a cargo ship to Ghana. And considering its wonderful and green colour this generator must be very environmentally friendly….., at least very friendly to the living conditions in PCC!!
With the help from Baffo, Obeng and Dominic Paul Lamberts set up the new generator last week and it has done wonders: it is working fine and there is light in our darkness, hurray!
Many thanks to all who have contributed to these changing fortunes for PCC: you have done well!

By the way, it is a wonderful idea that people are able to manufacture machines, which make darkness go away and which bring light and happiness to the hearts of the young and old. If all people went about their business in the same way…..!?! Viewing from the faces of the children of PCC this would be a great idea. It is not for nothing that the Bible starts with God, who says: "Let there be light" and there was light. And God saw the light and it was good.