Kwaku Jacob and the donkey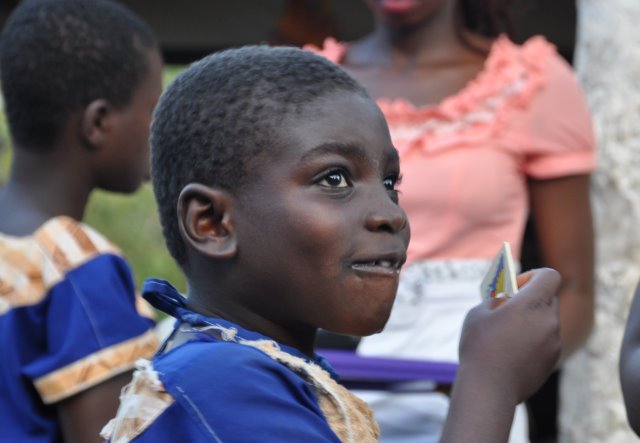 Kwaku Jacob has lived in Hand in Hand for over 4 years now,
time flies! We first saw him in Osu Children's Home in Accra in 2010, while he was playing with his friend Kwame Ayim. Together they made a pretty good twosome and we wanted to keep it that way. That is why they came to Hand in Hand together later that year.
Unfortunately, Kwaku Jacob's life story is less pleasant: he was the only survivor of a serious car accident near Nsawam, in which probably also his mother was killed. Since then nobody has turned up in search of this child and that is why he finally ended up in Osu Children's Home, that was about three months before we met him there.
He is mentally disabled to an average degree and he is also visually impaired, however, this does not stand in his way in the least bit. He is busy all day with almost anything and especially with being naughty. Because he is really having a blast when he is doing something he is not supposed to do and he knows it. His broad grin will give him away and the more his behaviour is corrected the more he will laugh. It isn't always easy, but without doubt there will be many parents who will recognize this kind of behaviour of small children, being mischievous is exciting and fun!

He has lived together with e.g. Edmond at caregiver Patricia's and these two boys have gradually developed the pattern of pushing and hitting each other, then laugh (or cry…) loudly and subsequently returning the favour. And everybody who is passing by accidentally, may share in their joy….
Undoubtedly it is much fun to them, but for the Community as a whole we thought this to be a game less wished for.

That is why we trusted the care of the boys to two different caregivers a few months ago, after Patricia left. Hoping that this pattern, which has gradually developed, will be broken step by step. We will make every effort….

Eye specialists and others have examined Kwaku Jacob's low vision extensively, a CT-scan has been made, but it seems that there is no therapy for his disease. He has to keep objects very close to his eyes to be able to recognize them, which makes it even more remarkable that he is able to walk about the PCC compound without continually tripping over or bumping into everything. And he likes to move, because walking around is much more of his nature than sitting around and doing nothing.
However, he likes going to Summer School, where he is taught how to behave as a member of a group: waiting for his turn and sitting in the circle of children instead of climbing on top of the table etc..

Kwaku Jacob's "Moment of Glory" happens during PCC parties: then he is able to recognize various colours well by holding them in front of his eyes and then, as a climax, he will imitate a donkey. Loudly and cheerfully it will sound: Hee-hawwh, Eeyore, Hee-hawwh and everybody will be happy and applaud.
In few weeks it will be Christmas again. According to ancient stories there was an ox but also a donkey at the crib and we are very curious whether we will hear Kwaku Jacob's imitation of the donkey's bray over everything else: Hee-hawwh, Eeyore, Hee-hawwh. Merry Christmas!