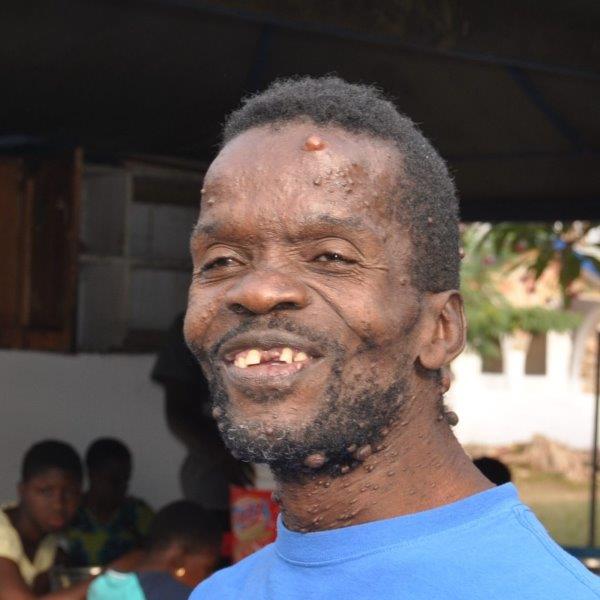 Born: 1976
Financial adoption: P. van Tits; Lamberts family; fam. Wiggers; all from Holland.

John was born around 1976 and lived in the Osu orphanage in Accra. However his behaviour was found to be quite challenging  and this led to his transfer to the Psychiatric hospital in Accra which was a very hard environment to be in.   John has a condition called Von Recklinghausen Disease (Neurofibromatosis), which probably also led to people being rather afraid of him as it looks  very strange.  John will be aware that he looks strange to other people and this has an impact on the way he behaves.  He was eventually brought to PCC which is  a much more appropriate environment for someone like John who also has  learning disabilities.
John can still be very challenging at times and this is hard for the care givers to deal with but also for some of the children as he can be quite a bully. However this comes from his lack of understanding and to balance this out John can be extremely kind and thoughtful especially with some of the smaller children.  John can be helpful to guests who come to stay at PCC and carry their bags to their accommodation for them.  John does enjoy having a sense of responsibility but needs help to not get carried away with a sense of power over others.
John is part of our community and like all of us he continues to have much to learn.  He needs to know he is loved and appreciated and that everyone at PCC is of unique value and therefore needs to be shown kindness and not to be bullied.