How are they doing….. part 4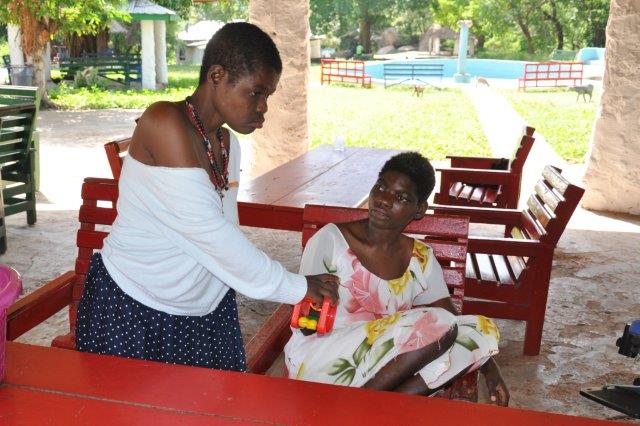 Elianne made a request to write once about three residents of PCC she still remembers from the year 2000 (!)
in the Psychiatric Hospital of Accra.
That's not less than 16 years ago, so a good reason for an update on Abena, Afia and Peace in part 4 of our columns "How are they doing….?"


Abena
For a long time Abena (also known as Ademodee) is our senior female resident and she also behaves that way.
She will only do what she likes to do, raises her loud voice on and off and her "Heeeey" will then sound over the whole compound.
Most of her days she spends in our Daycare and this proves to be quite OK for her.
She has two different poles. On the one side she like to be on her own, preferably sitting in front of the door of the Girls Dormitory looking on quietly to what's happening, on the other side she makes contact on and off, e.g. with smaller children or with Afia whom she considers to be her younger sister and with others e.g. to show that she has a beautiful necklace, bracelet or ear ring or rather that it's broken and she needs your help.
When she is in a bad temper you will not easily miss it because she will then refuse to eat or sometimes even undress herself.
But in general she has an even temper, being herself and enjoying life in PCC in a very quiet way.


Afia
She is one of our autistic residents with some mood swings. Most often she is quiet, very predictable and showing her beautiful, affable smile on and off while living in her own world, but sometimes she seems to be disturbed for no clear reason. She then can be unmanageable, refusing to walk, eat or whatever she is asked to do, just because she doesn't like it and to get her out of such a mood is not an easy task!

Usually she enjoys the quiet life and regularity at the Autism Table.
During parties she can be totally happy and blessed when heaving close to the Kofi Asare music group, totally at ease.
Peace
In 2000 Peace was only about 6 – 7 years old, in fact still a small boy.
Since then he has grown to an adult man in PCC, someone who prospers best when you allow him to go his own way. He is always searching for items that are important to him, like slippers (preferably 2 different ones from other people) and of course small stones, bottle caps or anything else he considers to be money…
He spends most of his days in the room for autistic residents too, where he likes to take a nap. Unfortunately he still gets regular epileptic seizures despite medication.
Sometimes he can demand your attention with some force by grabbing your arm (saying "dada, dada") and pulling you for some time though it's not always clear to you what he wants.
Overall one can say that the life of Peace in PCC is definitely conveniently arranged and "peaceful" and so he flourishes.
Stories of 3 PCC residents who each on their own way enjoy life in our Community for over 15 years now.
We are very happy and grateful that PCC could make a difference in their lives.
Would you also like to know more about the development of one of our residents? Send me your request by email and who knows you will soon find the answer to your question in one of the next columns in this series!
Please send your requests for updates and pictures of other children to:
handinhandcommunity@gmail.com