Hostess Elizabeth married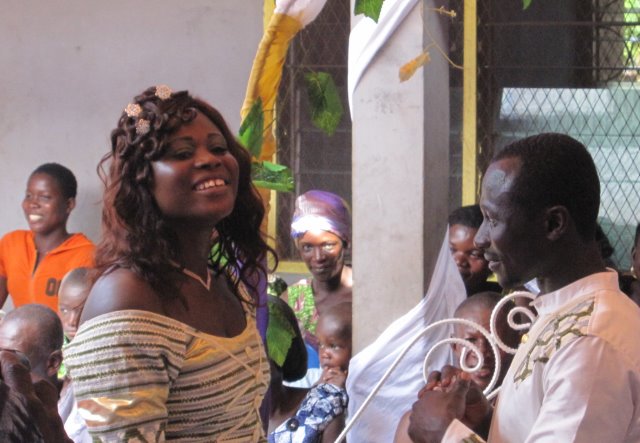 Many of our guests of recent years will certainly know Elizabeth.
She has been a hostess in PCC's restaurant for some time now together with Vida. She likes guiding tours around our compound for anyone who is ready to join. Besides, she is also a PCC caregiver and she is looking after two of our residents – Kwabena Tawiah and Theresa.

But today, Thursday the 23rd of April 2015, everything is different for Elizabeth, because on this day she will be married to her beloved Alex in the family home of Elizabeth in Akuma, which is not very far from Nkoranza.
This marriage has been arranged in a very short time, because Alex is Ghanaian but he lives and works in the South of Italy! Indeed, he came there as a boat refugee from Libya some time ago. He is in Ghana for a period of (only) three weeks and within this period everything had to be organized!
We travelled to Akuma with a large delegation of PCC to witness this traditional marriage, because we did not want to miss anything!

The interior of the family home is beautifully decorated and there are seats everywhere for the many guests who are expected. In the middle of the room there is a – still empty – wonderfully decorated sofa for the would-be couple. Of course it all starts with a lot of handshaking at our arrival and naturally extensive fundraising for the young couple should not be absent. It is unthinkable that there is a ceremony in Ghana without fundraising… Fortunately, the fundraising is running smoothly here and everybody is having a good time.
But things are heating up when the Master of Ceremony summons the future husband to come forward. Alex is given a lovely bunch of flowers and with these flowers in his hands he is looking fervently for the best flower in the house, his beloved Elizabeth!
He is not very successful at first because she is kept away from him for a while. Fortunately not for long, because after having paid Cedi 200 Elizabeth's sister is willing to tell where Elizabeth is hiding and soon afterwards Elizabeth's father is leading his daughter to Alex.
This is how her hand is passed over from the safe hand of the old father to the inviting hand of the young and future husband!
Elizabeth receives her dowry from the family of the groom, which consists of a couple of bottles of schnapps and some envelops with cash for the bride's family. After having completed these important formalities the marriage can be officiated, because the dowry has been submitted as well as accepted by both families, which means that they have come to an agreement.
The Reverend of the Lighthouse Chapel International is present and he is performing the wedding ceremony. In the presence of all guests Alex and Elizabeth promise to love each other and to support each other and as a token of their lasting bond rings are being exchanged. After that the Reverend is begging for God's blessing for this young couple and he is making use of the occasion to implore Him for the birth of many healthy children for this new pair, even twins or triplets will be welcome!

Of course we haven't come with empty hands either and all presents of PCC and all personal gifts, mostly envelops with cash, make Alex and Elizabeth very happy. After more than 2 hours we are leaving in order to be back in PCC before dinner and we are driving back with a smile on our face and a take-away in our hands.

Because Alex will be going back to Italy Elizabeth will be working here for a while which is very fortunate for PCC and its guests, but a pity for Alex. So … don't forget to congratulate her when you are coming to PCC soon!
We wish Alex and Elizabeth all the very best and God's blessing!