Helping guests are most welcome!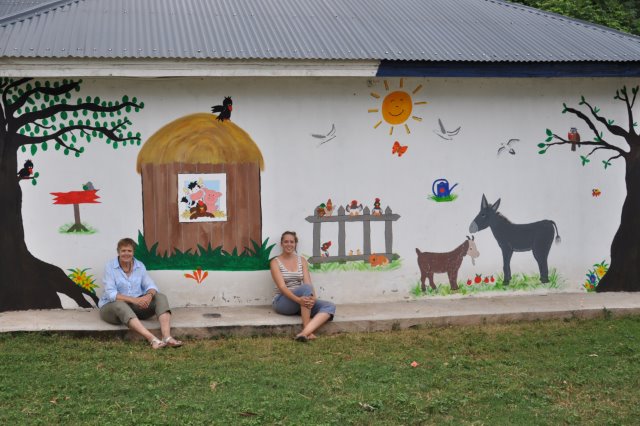 For years guests travel to PCC regularly,
some come only for 1 or 2 days, others will stay for some weeks, even up to 2 months.
Guests staying for a longer period normally don't come here "just" for a visit, but when here they are helping us by doing all kind of useful maintenance activities or supporting us in other appreciated ways. All this contributes to the good functioning of the Community.

The group of guests staying for some time is rather divers. Some come as a group e.g. from a church or a foundation in Holland, Germany or England, others travel to PCC either alone or with a partner to give us support in different fields for some time.
They are all different persons and so their talents and technical skills will vary. But the final result is always that we are very glad with the assistance given and on the other side these helping guests at the end are extremely positive about their time here and the support they were able to render.

What are these helping guests actually doing? Well, some participate in the care and give "special attention" to some of our children, others are helpful with doing some painting or repair of chairs, tables etc. Creative persons often are doing a great job in the sheltered workshop.

A group from a church in Holland recently redecorated the playground and they also brought some new nets for both goals on the football field! Handy men are helping with minor repairs while artistic people do so with nice murals and the children love it!

From England some autism experts are coming, from Germany experts on special needs education and a Dutch market gardener gave good and useful advices for our PCC-farm. Again others did a great job by mapping the complete lay-out of the whole PCC compound including the electricity supply and so on and so on, too much to mention all that is done.
What a great  asset it is for PCC to have so many talented friends!

What often can be observed is that working doesn't make you tired at all(!), if only you enjoy the work you are doing even if the tropical sun is shining! It's an important lesson for everyone so we are happy to spread the good news: take care to enjoy the work you are doing, be proud of the results you have achieved and you can move mountains!

We hope it's obvious now that we are happy with all helping gusts and very grateful for all they are able and willing to do for PCC.
It's part of the secret of PCC that people from all over the world travel to Ghana and PCC to come and help in the Community and while doing so they discover that staying and helping here became a wonderful source of inspiration and happiness for them as well.
In this way the Spirit of PCC becomes a noticeable and tangible reality for our helping guests too. A small miracle!

May be you became curious and are interested now to become a helping guest yourself? Please feel free to contact us once and inform us about your ideas and plans, even if all is still vague.
And when finally you decide to come to PCC we promise you will never regret doing so, on the contrary. Our children will definitely take care of that!