Grand celebration of Silver Jubilee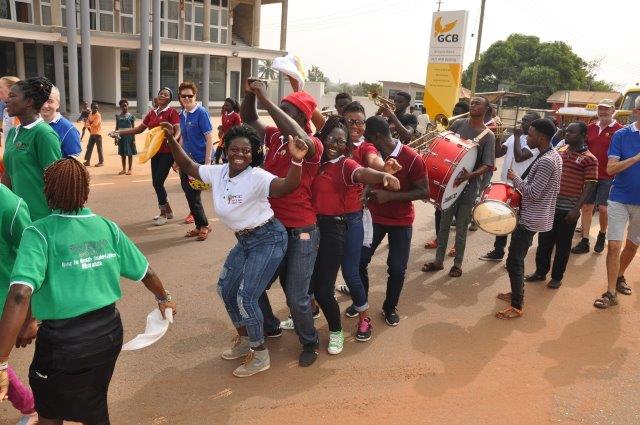 How can I ever succeed in giving you a good idea about how we celebrated the Silver Jubilee?
In fact it's impossible as you should have gone through it yourself and should have seen it with your own eyes to really understand how beautiful, how special and how festive it all was.
Nevertheless I will try to give you a good impression.

The Silver Jubilee celebration took two days and already some days before the excitement that comes with such an occasion was in the air. Normal PCC life was completely outstripped by the upcoming festive events.
The day before the Jubilee everyone got special Jubilee polo-shirts, of course our children and caregivers, but also all guests. They are all very proud of having it, it's definitely a collector's item!

On Day One we all were wearing these colourful Jubilee shirts, it was the day of the grand PCC Parade through the streets of Nkoranza: almost 2 hours of dancing and singing, moving and enjoying while many astonished Nkoranza inhabitants were staring their eyes out seeing this Jeronimo Bosch-like procession.
They saw many happy and enthusiastic disabled children, a lot of young Ghanaian caregivers and old-caregivers plus a good number of guests from Ghana and Europe all passing by while dancing in the streets. Behind this group there was also a big bus with a PCC banner in front and inside it all our not-so-mobile residents. What a Parade!
A unique happening, we were all very tired at the end but also so happy and proud! We are sure people will talk about this parade for a long time and that's exactly our intention!

After a football match between caregivers and old-caregivers we had a great and pleasant party on the Jubilee square in the afternoon with the extended PCC family! Just next to the Jubilee Square there was a special BBQ (with fresh meat from some PCC goats and a PCC pig!) to please everyone's stomach.
In itself this day was already an enormous happening and day two was yet to come…..!

Saturday 30th December started quietly with an Open Day for all guests, but after that everything was only in superlatives. The PCC football field was transformed into a big Durbar area with covered seats for all Chiefs and their people, also for the various dignitaries from Ghana including a Deputy Minister and 2 MP's and for all guests from Europe, Accra and Kumasi etc..
Of course there was a large gallery for all from PCC too.


Very often Ghanaian celebrations excel in having many long speeches and therefore we arranged that there was a special Play as the climax of this Durbar, whereby in many acts the residents of PCC depicted the unique history of PCC in a very lively and appealing way. Many children got spontaneous big cheers of the crowd, everyone was very impressed by all these disabled children were able to show, including how the PCC-land was obtained from the Chief in 1992, the construction of the many PCC houses and buildings, the PCC church services and even the pool, all this was depicted so well.
It was very touching, the camera teams were all over the field!

The Chiefs, sub chiefs, queen mother and their musicians were very impressive and magnificent and the various speeches were all positive and in general rather short. Guest of Honour was the representative of the Dutch support foundation Hand in Hand, Mr Paul Lamberts, as a sign of great appreciation for all support for PCC received from Europe.
The take-away meal for all guests at the end of the Durbar was really tasty and veeeery popular …., a good performance of the extensive PCC kitchen staff.

After 2 days of celebrating everyone was satisfied and in the right mood for a special church service on Sunday 31st December, a Thanksgiving service conducted by a female pastor from Techiman in the PCC church, a dignified and spiritual end to all festivities.

During 25 years PCC has developed from a crude stone into a beautiful diamond, a respected, vital and unique community. Truly, it is a miracle indeed!
PCC and all residents have therefore many reasons to be happy and grateful for as has been expressed during the Silver Jubilee in a magnificent way. Those who were with us will agree: it was a grand celebration!
For your agenda: the Golden Jubilee will be in 2042, we are already looking forward to it…..

With gratitude to God for His many blessings PCC experienced during 25 years we now continue with our normal work, the next 25 years have started already!