Ghana, the Netherlands and the World Cup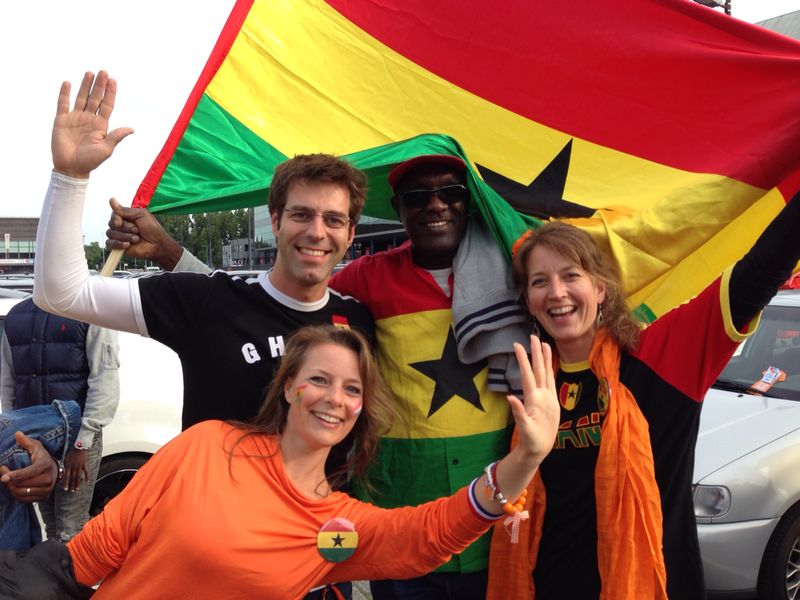 Ghana, the Netherlands and the World Cup
By the time this column is published on the website the World Cup in Brazil will have started,
I am writing this column just a few days after the 31st of May: the day of the soccer match between the Netherlands and Ghana in Rotterdam.
This is a unique chance to watch both national teams play against each other, something not to be missed. And that is why I am going to the stadium in Rotterdam on the 31st of May together with Wim Mur, the treasurer of Hand in Hand The Netherlands and two of our children and Annelieke. Daughter Mirjam was born in Ghana and she is wearing – just like son Bas is – a Ghanaian shirt, which makes them both very popular with many of the Ghanaian supporters of this game! As a result many wonderful pictures are taken and new friendships develop, because they strike the eye in a sea of Orange. I myself am also wearing an orange t-shirt, but I am enthusiastically waving a Ghanaian flag at the same time. This is how I am trying to contribute to a lovely and friendly evening.
I must have been successful because we only notice happy and enthusiastic Ghanaian and Dutch people during the evening. Of course we all know that the real work still has to be done, because starting from the 12th of June the players of both national teams stand for a difficult and heavy task in Brazil, realising that a complete country is depending on their achievements to make a dream come true.
We are at the Feyenoord stadium in Rotterdam and some lines of the Feyenoord club song are as follows: "Hand in Hand, comrades" and also: "No Words, but Deeds!". Wow, that is a coincidence, just like in this song we feel a strong connection with all residents of Hand in Hand in Nkoranza during this evening. As we know they are watching this game together with all caregivers in the old TV room and they are enthusiastically celebrating this football party together with us.
Not Words but Deeds, it could have been PCC's motto, because that is what things are like in Hand in Hand. It is not words that count but the things you do. So, sleeves up and get to work!
Nobody is concerned about the outcome of the match, the game particularly confirms the friendly and good bonds between Ghana and the Netherlands. We cheer for a good action by the Netherlands and we cheer for a wonderful move by Ghana because these 50,000 people have mainly come to the stadium to experience a nice evening in a good atmosphere. We have an air that we all belong together, we are happy because we feel a sense of community.
Just like in the field, where the relatively weak player is compensated by the powerful effort of another. Some players are more talented than others, but together they form a close team, they represent their country and they have the strong support of a whole nation. Isn't this exactly just the case with all residents of PCC / Hand in Hand? All residents have their own talents, which they may develop still further, but they also have their limitations, with which we like to give them a helping hand. That is how we stand there, Hand in Hand and shoulder to shoulder, each and every day and to our residents it feels like 50,000 men in a stadium are supporting them.
The football stadium as a metaphor for a good society and the Hand in Hand community as the living proof that we may stand hand in hand with our disabled fellow human being.

Soccer, as Nelson Mandela said during the World Cup 2010, is Africa's sport. It also is PCC's sport, The Netherlands', Ghana's, Germany's and England's and many more other countries'. All are looking forward in excitement to the World Cup in Brazil. Let's hope that the spirit of community, of standing together and Hand in Hand may prevail over there.
Of course we're dreaming of the finals Ghana – The Netherlands, however may this – against all odds – not come true we would like to say: may the best team win in an atmosphere of peace and community!
Okay, let the World Cup begin: Hup Oranje, Go Black Stars, go!