G8 dedicate themselves to PCC yet again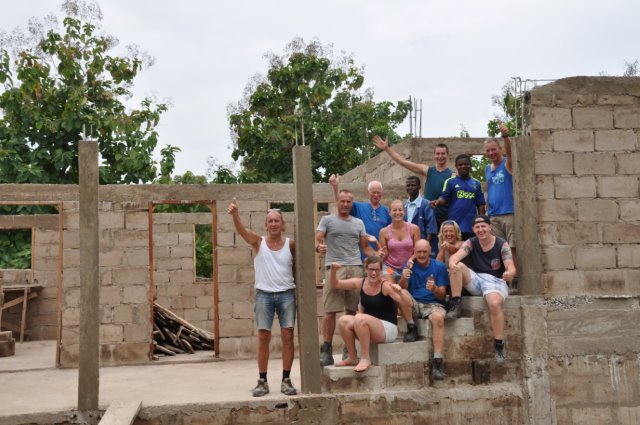 Although it is already 3 years ago that they were here for the last time
, many residents still know precisely who Bernard Meier and the other people of G8 are and that is why all 10 members were heartily welcomed here in mid-October by our residents.
G8 come from Groningen (a Dutch province) and visited PCC for the first time in 2007, and in 2008, 2010 and 2012 successively and yet again in 2015, which is the 5th time. Not always the same people were here, only Bernard has visited us every time, some came for the 3rd time and 4 members came to Ghana and PCC for the very first time.

They do not only visit for 2 weeks, certainly not, they come to help and how! Nearly all G8 groups have made a clear and lasting contribution to PCC, e.g. by building a new house for a caregiver and children in 2008, the Education Centre in 2010 and another house for caregivers and children (the Giraffe house) in 2012. Also this year they helped building a new and spacious house for about 6 to 8 children and 3 caregivers, 2 sizable pantries included.
However, their contribution is even bigger than just expertise and energetic building (which is, of course, in itself quite significant!), because ……. they will pay ALL building costs of this new house, which is really fabulous!
They have been fundraising for the last 2 years and they are obviously really creative and skilled at this, because each time they succeed in astonishing us with an overwhelming result of all their fundraising activities for PCC! What a privilege to have such friends!

Except for enthusiastically helping with building the new house the people of G8 have also done all kinds of odd jobs, for instance digging gutters alongside the walls of PCC houses, replacing broken locks on various doors and placing 25 to 30 solar lamps, e.g. near the toilets and at some central spots, making sure that the light will shine on also in case of a nightly power cut in PCC. Quite suitable of PCC: the light will conquer the darkness!

Add in the washing machines and a couple of bikes, which were repaired – on Joshua's, Stephen's and other children's request, and you will understand: G8 have contributed hugely to the expansion and maintenance of PCC!

Normally we hear the familiar sounds of our children, the caregivers, but also of the drums, the donkeys and chicken and so forth. Now we heard something unusual for 2 weeks: we could hear pure "Gronings" (a Dutch dialect) being spoken, which is something completely different even to Dutch ears!
At the end of their stay here (of course) a soccer match was played and to the great joy of the whole Community the PCC team won 3-2, naturally a well-earned victory! The team were proud to collect the prize that was brought along by G8.

During the farewell party we have put Bernard Meier, because he has visited PCC as the great organizer of G8 for the 5th time, in the spotlight in an appropriate Ghanaian manner. But this spotlight has shone on the other G8 people as well, like the sun did that had to be tackled for 2 weeks. It was not always very easy, often even hard to deal with (fortunately there was the swimming pool for a nice cooling down after work), but the job has been done!
After the finishing touch has been completed, PCC will be able to boast a wonderful new house again.

In Ghana we like to say:
Thanks G8, you have done well, may God bless you. Amen.