Day of Sports is a day of joy!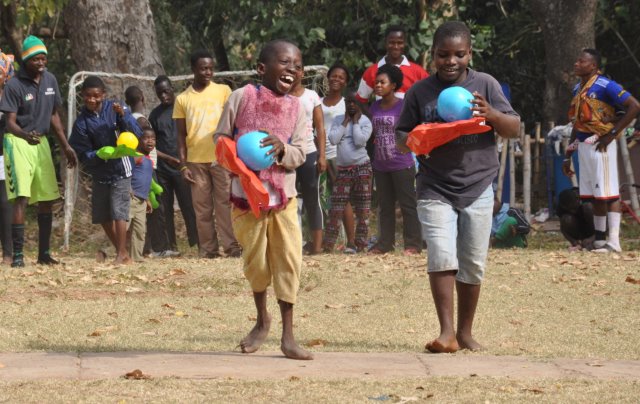 Once in a while we will organize a Sports & Games Day in PCC, which is always an occasion of great rejoicing in the Community.
Such a festive day will be announced only a few days in advance and a group of caregivers will make a list of sports and games, which will be on the programme for that day. Such a list is seldom a surprise, because there are activities that we can't do without, because they are immensely popular.
What are we talking about then? Well, for instance running, a sack race, carrying a light ball in one's palm of the hand towards the finish without dropping it, a dance contest, tug of war or filling buckets with water. These are simple but fun games which make the young and the old very happy. And of course, it goes without saying that there will also be a thrilling football match on the programme, in which the children are competing.

The Community will be split up into two large groups on such a day. A few children of the first group will compete against a few of the second group, these children share the same potential (i.e. have comparable limitations in common). So: the small children will compete, the group of young adults will challenge each other and those in wheelchairs will battle for honours, too. And last but not least, also our caregivers are eager to get involved into a sportsmanlike fight!
There will be a serious counting of points displayed on a huge board, however, at the end of the day no one is really interested in the results. It is not about winning but about joining: the real Olympic thought is still very vivid in PCC! No dope, no match fixing, only pure and decent competition! It mainly is a very festive occasion!

This is clearly obvious from e.g. running or the sack race. When 4 children start at the same time, obviously one of them will always be first to finish and the others will be second, third or fourth. But the smile of the child, who has become third or fourth is as beautiful as the smile of the winner. And all will be given loud cheers!

One can sense that the atmosphere of such a day is completely different. To most of us it will probably bring back memories of the sports day at school. The rousing music on the sidelines (to which Ayuba and a few others are constantly dancing), the loud cheering on during the tug of war and the filling of the buckets and of course that tasty biscuit during the break: it all contributes to the exceptional mood and atmosphere. For short, it is a day full of joy, sportsmanship and a feeling of tremendous togetherness.

Only during the football match tears will be shed sometimes, but only when one of the children will have to leave the field and does not want to. Of course, all other children also like playing and running about on the field in a nice football shirt.

However…. whatever I will write in this column or whichever photographs I will choose to upload, the only way to experience and fully enjoy the special atmosphere during Sports & Games Day in the Community is to be actually present in PCC on such a day.
And the beautiful thing of it is: you will get, except for this mighty spectacle, a tasty biscuit during the break, even if you are only watching!
Sheer enjoyment guaranteed. You are cordially invited.