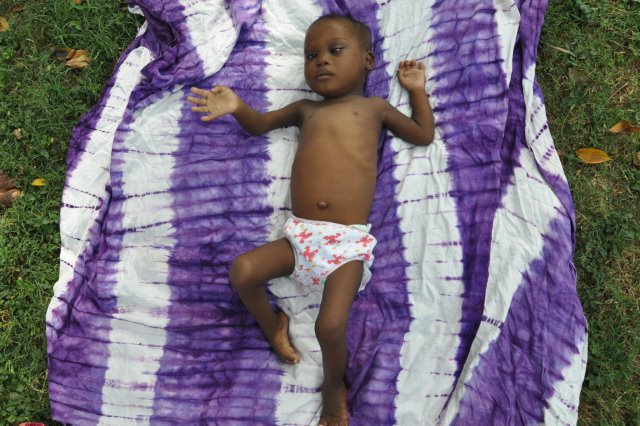 Thursday evening around 19.30, one hour after sunset.
A large group of people leaded by Joe Emma, mainly caregivers, a few gatemen and some residents, is calling upon us with a special story.
One of the gatemen, Kennedy, heard the crying of a small child some minutes ago. When the crying didn't stop he went out looking for what was happening and then he found a little girl lying next to the gate, nobody else was there.
We see a small, malnourished child of about 3 years with various small wounds on the skull, symptoms of Down's syndrome and a low muscle tonus. She is not able to sit or stand, but is very quiet despite all attention and is even not afraid for white people ( "obruni's"). She is wearing a nice new dress, the person abandoning her at our gate apparently wanted to leave her properly, as a kind of last evidence of her care and love for this girl.
That same evening we go to the local Police station to inform them. They listen to our story, but seem to be a bit scared that we would like to drop the child at the police station. So they are very happy when we inform them that "for the time being", pending the investigations by Police and Social Welfare, we are prepared to take care of the child. On our way back to PCC we even visit a local FM radio station on behalf of the Police with a request to inform the general public and to ask people to give more information about the little girl.

When returning to PCC we try to think of a nice name for this little girl. The eldest foundling we could think of is Moses and we therefore decide to name this girl after his sister Miriam.
After returning in PCC quite a lot of the female caregivers are coming forward to tell us they would love to take care of this little and quiet toddler, obviously she is appealing to their primal motherly feelings! For now Gloria is the lucky one and she fully shines.
After more investigations we noticed a protein deficiency ("kwashiorkor"), so an appropriate feeding schedule for Miriam is prepared.  
The next morning we report once
 again 
at the Police for a follow-up and at the end the police tells us they will soon come to PCC for further investigations.
It's now 3 weeks later and though the Police once announced they would come and visit us we haven't seen them since…. and also Social Welfare never showed up. This very much gives the impression that Police and Social welfare look upon this case as already solved from the beginning, knowing of our offer to look after Miriam temporary. May be they already closed their files??
We are happy to say that Miriam flourishes well in PCC, enjoying the loving care and good food. Her wounds have healed quickly, her color improved and she is almost continuously hugged by all caregivers. She eats well and we can see Miriam improving almost every day and this of course makes us proud.
Our feelings are mixed: on the one side we are glad that we can take good care of this vulnerable little girl and we would not mind her staying here permanently. On the other side we blame the authorities for not taking any action in this case, just leaving things as they are.
Of course PCC we care already for many abandoned disabled children, but we would not like to stimulate parents abandoning more children as a foundling at our gate. As I said: we have mixed feelings, for who would not be touched when facing such a small, helpless and moving girl, waving with her little hands all the time.
Foundling Moses from the Bible ended up as the son of a Princess and became a Prince himself at Pharaoh's court. Miriam is now staying at PCC's court and we will try our utmost best to develop her into a little Princess in future. Be welcome, Akwaaba, dear little Miriam.