Caregivers, Hostesses and Abass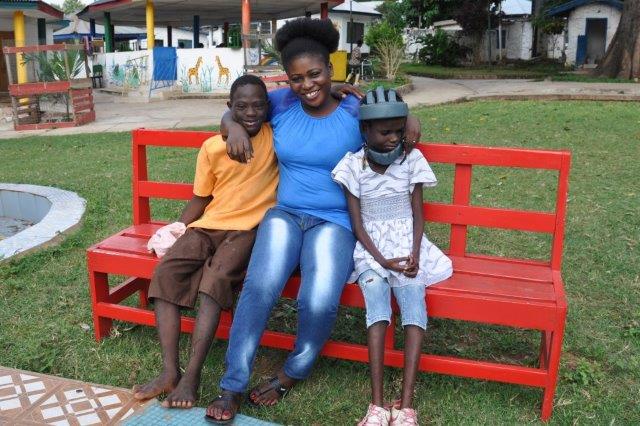 Some of our most experienced caregivers left for diverse reasons the past period 
.
Esther Azapa
A while ago I wrote about Esther Azapa who was leaving PCC in April after having worked in PCC for 7 years. She has left for Denmark where she married her Lasse only this month!! They certainly didn't let the grass grow under their feet!
Esther and Lasse, everybody in PCC congratulates you on your marriage and we wish the both of you much happiness and prosperity!
Albert Givas
Albert "Dede Ayew" or "Givas" has also chosen for a different direction in his life after having worked in PCC for almost 5 years. He left PCC last May.
Amma Elizabeth
And of course we have known for a while that also Amma Elizabeth would leave us. Over a year ago she married her Alex, a Ghanaian who lives in Sicily, Italy (indeed, he arrived there by boat, braving the Mediterranean Sea years ago). He especially came to Ghana to marry Amma last year. See Albert's Corner April 2015:
http://www.operationhandinhand.nl/?p=4340
A few weeks after the wedding ceremony Amma's newly wed husband had to travel back to Italy because of his job and since then Amma could only keep in contact with him by phone. It goes without saying that this could not go on for a very long time and very recently and much to her happiness Amma has succeeded in obtaining a visa for Italy after a very long and tiresome procedure. She can finally be with her husband now.
Amma is especially well known to many visitors of PCC because she was a hostess in our restaurant. She has worked here as a caregiver for more than 6 years. The first years she worked with our group of autistic youth and she did well. The last couple of years she was one of our well-esteemed hostesses.
Besides, she has also taken good care of "her PCC children" Theresa and Kwabena Tewiah for all those years. They and we will miss Amma tremendously, but on the other hand we wish her all the happiness in the world with her Alex in Sicily. Fortunately, shé didn't have to cross the Mediterranean Sea to reach that Italian island by boat: she took a plane instead. It was her first foreign trip ever outside of Ghana, which was rather exciting of course!

New hostesses
When people leave there are always others who are prepared to take their place, which is very fortunate. In the mean time we have been able to take on some new caregivers. And there are two other caregivers who are our new "PCC Hostesses": Edna and Rita.
We can ensure you that all guests will be in very good and caring hands with them, too! You are invited!

Abass
Of course it is nice to bring happy and positive news about our Community, but now and then it is impossible to avoid less pleasant news about residents of PCC. This time there is a less cheerful message about Abass, an about 12-year-old boy who has been living here since 2013 and who is standing out in the Community because of his personalized language and his typical rather jerky gait.

Last April he went through serious gastroenteritis, it was so bad that he had to be hospitalized. First in Nkoranza and two weeks later he was referred to a paediatrician in Techiman. However, Abass kept on vomiting and in spite of intravenous drips he lost considerable weight and became very feeble.
After no fewer than 5 weeks Abass was allowed to leave hospital, but he was (and still is) very weak and he could hardly move his muscles. Now, a few weeks later, there is some progress, thanks to good physiotherapy (more about this later), but he still isn't able to sit upright or even use his hands to get something. We hope and pray for (much more) recuperation in the coming next weeks and months, but things go awfully slowly. Come on, Abass, we would like to see your old self back!