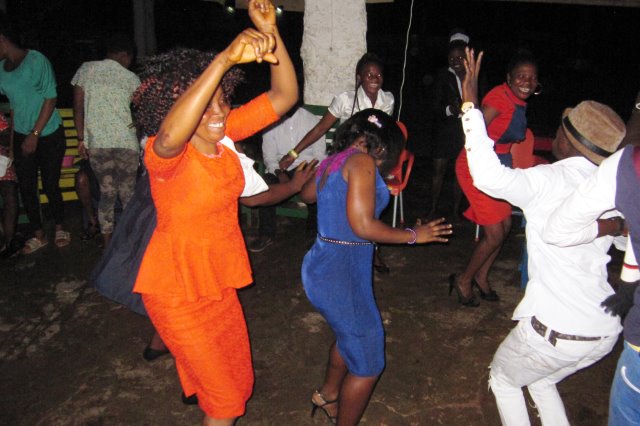 Caregivers Day in PCC
They were surprised, not knowing what to expect, when PCC's Board announced a few weeks ago that on Wednesday, the 12th of October, the first ever Caregivers Day would be celebrated in PCC.

We have decided to establish this Caregivers Day to put our caregivers into the spotlight once a year and in this way to be able to thank them for their everlasting care for all residents of Hand in Hand, 365 days each year.
After its announcement this day was well prepared by a small committee of board and caregivers and on the 12th of October it was the day. That morning we wished each other a Happy Caregivers Day and we may conclude it has become a very happy and successful day indeed.
We chose a day on which there would neither be guests nor caregivers on leave, to make sure that everyone would be able to participate!

Much energy was put in the food preparations in the kitchen, everybody (both caregivers and residents) were treated on baked rice and chicken, which demands a lot of extra work. But its result was worth all the effort, what a delicious meal it was!
After the children had enjoyed this festive dinner (and enjoy they did: many proudly showed the large piece of chicken they got or were carrying it around in their hands just to enjoy it a little longer!) they went – accompanied by our Security-men, to the royal Community Hall where they watched our new PCC info-DVD, a feast of recognition!

There was an unusual silence after the children had had their dinner, which lasted about 20 minutes, and then the caregivers – all being freshly showered and dressed up to the nines (!) – came to the party one by one and full of expectation.

The party started off brilliantly because there were some special small gifts for everybody plus the payment of the first COLA (Cost Of Living Allowance) of 2016. And as if this was not enough, a tremendous shower broke the sky, a blessing from above that forced us to take shelter under the roof of the large Summer hut in the centre, which made it all the merrier.

During and after a delicious dinner we were entertained with all kinds of amazing performances given by our caregivers. We were much pleased to hear and see a solo Gospel Song by Dorithy and Joyce, a swinging Dagaba dance performance, exceptionally beautiful rap songs by a.o. Willie, Felix and Stephen, "You raise me up" sung with much feeling by Samuel and Stephen and much more besides.
Maybe the best part of it all was that all caregivers reacted very positively and enthusiastically to each other's contributions and that there was a strong feeling of mutual solidarity and pride of belonging to PCC.

During the last part of the party a game called "Pick and Act" was played. Every body took turns in picking a folded piece of paper with an instruction on it. This instruction should then be acted out. For instance singing the Ghanaian anthem, imitating the characteristic manners of certain residents (e.g. John Papa, Theresa, Tettey and Zachariah) or singing a Gospel and so forth.
It all contributed to a very successful Caregivers Day. We even had to hurry in the end in order not to be late for the children who would have to go to bed after having watched television in the TV room until eight o'clock.

Considering the success of this 1st Caregivers Day, supposedly a new PCC tradition had been born. Only 364 nights to go and it will be Caregivers Day in PCC again ….. Hurray!