Brief news from PCC, July 2014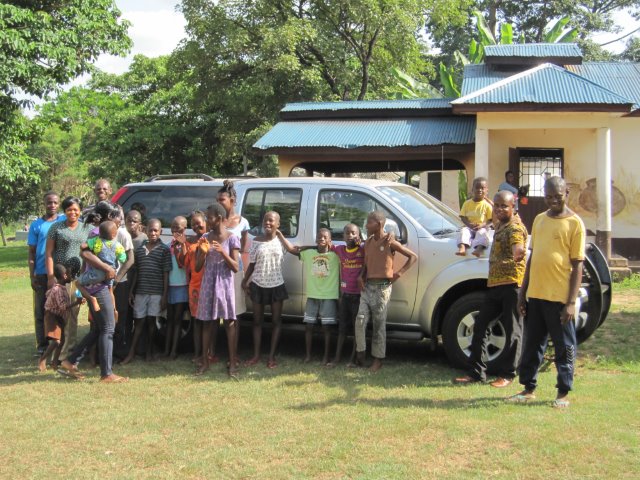 In this Albert's Corner we would like to share with you some fine and interesting news about PCC.


A new car for PCC!
Scoop: PCC has got a brand new car. The old car started to show more and more technical and electronic problems and this caused an increase in maintenance costs. High time for a new PCC car and thanks to the generous financial support of some organisations and especially the Round Table in Hardenberg and the Holy Antonius Abbot parish in The Hague / Scheveningen the car could be bought. Because the car will be used for the transport of people as well as goods for the Community we have purchased a Nissan Navara Pick-up this time.
Everybody is very proud of and happy with our new car, just have a look at the pictures! We are most grateful and we heartily thank everybody who has made this possible! We hope to make good use of this very fine and practical PCC car for the coming 8 – 10 years!

Special Olympic Games in Ghana
Several young adult residents of our Community have joined our neighbours of the Shalom Special School in the Special Olympic Games that were recently held in Kumasi. These are games in which pupils of various Special Schools in Ghana compete with each other, especially in soccer and athletics. Our youth were very successful, because they harvested a huge amount of medals. There were medals for Amoakowaa, Latif, Kwame Nkrumah and the other competitors. Of course we are very proud of them, as they are proud of their medals!

New website
I don't think anybody has missed this: Hand in Hand has a bright new website! We are most happy with this new site and we thank Elianne Breet for having realized this innovation with much creativity, input of her time and expertise, splendid! Douwe Akkersma will remain our webmaster, but we can put and change texts and photographs on this site much easier than before.
In June the completely new Dutch version of our site was finished and went life. In the mean time hard work is done on the English part of our site, so this can go life soon, too.

Neat renovation of some older houses of children and caregivers
Baffo has developed into a true master in the field of building and renovation in the course of the years. During the first half of 2014 a few of the older houses in our compound were renovated under his guidance, e.g. Mr Roberts old house. These buildings are tiptop again and they are already being used in the mean time as living quarters for our children and caregivers. In this way we keep PCC up-to-date!

Albino Paul
Sometimes we can mean something to other children than our own residents with regard to care. That is why we will show you a picture of Paul this time. He was born an albino and he is very sensitive to the abundant amount of sunlight here. Suntan lotion with very high sunscreen, sunglasses and a protective sun cap are to him simple however very important attributes and with the assistance of others we can help him with these now and then. He and his family are very happy with this help, as is shown in the picture.

And so forth, and so forth
There are always great stories to be told about PCC. However, enough for today. Next time there will be new stories in this column about this wonderful Community. Until then!